Posted by: Nick Redfern on October 11th, 2012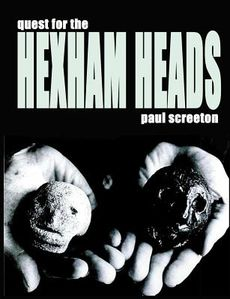 You can find a new book-review from me over at Mysterious Universe on what is – for me, at least – the undeniably best Fortean book of the year so far, Paul Screeton's Quest for the Hexham Heads.
If you're into Cryptozoology, werewolves, and general Fortean high-strangenesss of the type that John Keel highlighted in The Mothman Prophecies, this is definitely a book to read. Like now!
Here's how I start the review:
"Imagine the scene: it's 1972 and two young boys, playing in their back-garden in the old northern England town of Hexham, unearth a pair of creepy-looking stone heads. Believed by some to have ancient Celtic origins, the heads seemingly provoke a wide and unsettling range of paranormal phenomena, including the manifestation of a bizarre beast in the area. Then, when an expert in Celtic history gets involved in the saga, a monstrous werewolf-like creature materializes in her home in the dead of night. Over time, the heads provoke yet more mystery and mayhem, finally vanishing under strange circumstances, but never forgotten by those obsessed with, and intrigued by, such terrible things.
"Sounds like the perfect plot for one of those old, classic Hammer Films of the 1960s, right? Yep! Except this story is all too real. At least, parts of it are. The brief summary I have described above represents a very broad outline of what has generally been accepted about what have notoriously become known as the Hexham Heads. But, now, thanks to the sterling research and writing of Paul Screeton, we finally have the full story of what really happened. Or, at least, as full a story as we're ever likely to get after forty years."