Posted by: Nick Redfern on October 23rd, 2012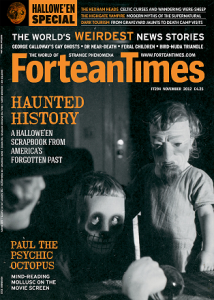 The new issue (No. 294) of Fortean Times magazine contains a couple of crypto-themed items that may be of interest to you:
A. There's a feature on Paul Screeton's recent book, Quest for the Hexham Heads (which is packed with tales of anomalous wolves and werewolves);
B. And there's a review of the recent Weird Weekend conference put on by the British-based Center for Fortean Zoology.
Here's the link where you can find all the info on the new issue…