Posted by: Nick Redfern on November 5th, 2012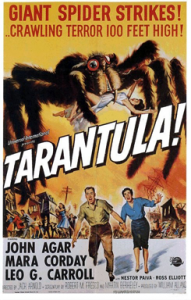 In a new post at the From the Vault section of Mania.com, Tim Janson begins:
"I confess that I hate spiders. They give me the creeps. But at the same time they fascinate me. Outside of the office where I work we have a bush where a spider had built an elaborate web. This was the largest spider I had ever seen outside of on TV or a pet store. This spider was about 2" long and was orange brown with black stripes. A storm washed him out but the resourceful little devil was back and rebuilding the web a couple of days later.
"Of course the spiders of this week's From the Vault are just a BIT bigger. At the height of the giant bug craze of the 1950s which started with 'Them' in 1954, we got two films featuring giant arachnids terrorizing small towns. This week we take a look at 'Tarantula' and 'Earth Vs. The Spider.'"
And here's the complete article…