Posted by: John Kirk on January 25th, 2007
A documentary team from the U.S. is in Bariloche, Argentina to make a documentary about Nahuelito, the cryptid of Lago Nahuel-Huapi. The Mandt Brothers Productions crew is led by Naomi Grossman and according to Argentine newspapers, they hope to interview witnesses and talk to local scientists about the possibility of the creature's existence.
This follows a visit last year by a Japanese TV crew who came to the area for a week to document the animal's existence right from the first sightings by the early Mapuche Indians.
Last year two supposed photos of Nahuelito were published in the El Cordillerano newspaper after an anonymous photographer dropped them off at the front deck. There were supposed to be three photos, but I have only been able to locate two of them. Why was the third not published?
See below, the two photographs.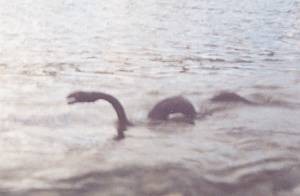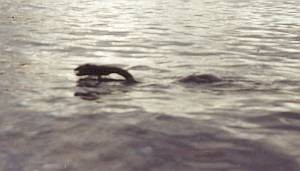 The two creature in the photos – which have been featured here at Cryptomundo – are almost identical to ones believed to have been manufactured by the late Frank Searle during his sojourn at Loch Ness. See photo below.
Now two more photos, taken by a medical student have arisen and we will post them here on Cryptomundo shortly. My early verdict of them is they are as dubious as the last two.
See Loren's post entitled Breaking News: Nahuelito Photographed for additional background on the two photos above.
Also see Craig's post entitled More on the Lake Nahuel Huapi Monster Photos for the translation of the translation El Cordillerano newspaper article from Scott Corrales.