Posted by: Steve Plambeck on October 15th, 2013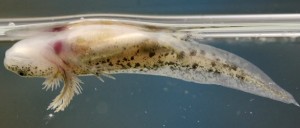 What could belly-up axolotls (Ambystoma mexicanum) and hungry tiger salamander tadpoles have to tell us about anything strange seen in Loch Ness?
Perhaps quite a bit, actually.  It's all a matter of specific gravity, evolutionary ploys, and how to tool around a large Scottish lake if you're born without a swim bladder.
My thanks to Christopher Hjelte, a reader of my blog who recently sent me a link to an interesting video about research into axolotls at Blackburn College in Carlinville, Illinois. Midway though this 2 minute piece, we learn of a very odd and previously undocumented behavior first observed and later filmed by Blackburn students studying these aquatic salamanders. A behavior that might possibly bear some implications for surface sightings of much larger cousins elsewhere!