Posted by: Karl Shuker on July 15th, 2013
Today, the classic, pre-eminent image indelibly engrained in everyone's mind when speaking of Nessie, the Loch Ness monster (LNM), is that of a plesiosaur lookalike, complete with long slender neck and tail, small head, and four large diamond-shaped flippers. However, this was not always the case. In the past, a great diversity of alternative ideas concerning the likely appearance and identity of Scotland's cryptozoological megastar existed.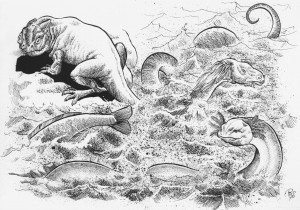 Nowadays, however, most of these have been long forgotten. Yet they included some truly extraordinary notions and fascinating sightings, which richly deserve their belated resurrection here, as we examine just a selection of those most curious of LNM identities – identities that may have been, might still be, and surely could never, ever be…could they?
Further details can be found here, on my ShukerNature blog.