Posted by: Karl Shuker on September 5th, 2013
It is well known that one of North America's most popular legendary icons, the jackalope, originated in traditional lumberjack folklore but was first given a physical reality as recently as the 1930s when the earliest confirmed taxiderm specimen was artfully manufactured from a jack rabbit (technically a species of hare) and some pronghorn antelope horns by Douglas Herrick from Wyomimg, who was subsequently dubbed the 'Father of the Jackalopes'. Less well known, however, is that Europe also has a longstanding tradition of such creatures, but here they are termed horned hares. Until as recently as the late 18th Century, the authors of many of the early pre-scientific animal encyclopedias, or bestiaries as they were called then, still believed in the existence of fabulous beasts that nowadays have long been dismissed as non-existent fauna of folklore and legend – such as unicorns, dragons, satyrs, and mermaids. Another of these now-discounted creatures, far less dramatic than those listed above, yet no less intriguing, and often depicted in European bestiaries, was the horned hare.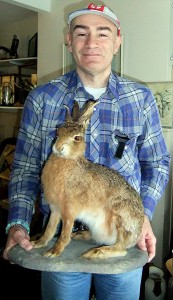 Indeed, its reality was so readily accepted by naturalists at that time that it even received its own formal Latin name – Lepus cornutus('horned hare'). A number of highly-prized stuffed specimens also existed, usually proudly displayed in hunting lodges or in private collections of unusual natural history exhibits known as cabinets of curiosities. So did – or does – the horned hare have any basis in reality?
Further details can be found here on my ShukerNature blog.