Posted by: Nick Redfern on November 18th, 2012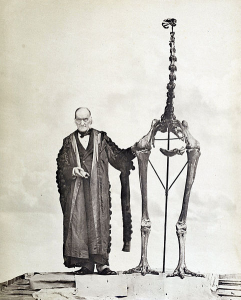 From a new post at CFZ-New Zealand:
"Strange stories of strange birds and even stranger fossils were coming from the end of the world during the 19th century. The first Europeans spotted New Zealand in 1769 and Captain Cook explored the Northern Island four years later. Cook was very interested in natural history and collected tales about the fauna and flora from the locals.
"On the Northern Island nothing unusual was reported, however on the Southern Island legends involving a monstrous bird existed. These legends explain an unusual hunting method for a large bird. Hunters would use incandescent rocks, which swallowed by the bird would then burn it from inside. The preferred habitat of these birds was said to be the swamps and forests and according to some legends until 1800 they were very rare animals, but still living on the island.
"In the year 1823 a hunter named Meurat claimed to have found a bone with flesh attached to it. He assumed by the apparent good preservation that the remains were very recent."
And the story gets far stranger…