Posted by: Nick Redfern on June 23rd, 2012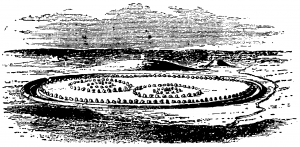 As I begin in my latest Lair of the Beasts column at Mania.com:
"September of this year will mark the 50th anniversary of one of the strangest and most mysterious creature-type reports to have ever crossed my path. It's made even weirder by the fact that it was secretly investigated by the British Royal Air Force! According to a now-declassified, six-page file titled Unexplained Event at Avebury, Wilts., that had been prepared by a Royal Air Force officer, an extraordinary event of near-monstrous proportions, occurred within the old, famous, standing -stones of Avebury, Wiltshire, England on a September day way back in 1962."
Here's where you can find the complete story.
This is a full-length article on the case I referenced yesterday that seems to parallel the UFO/huge slug one provided by Stan Gordon a couple of days ago. And, in case you're wondering, that's an old drawing of Averbury above.