Posted by: Karl Shuker on May 8th, 2013
There have been many searches for living thylacines or Tassies in Tasmania and mainland Australia, but should cryptozoologists be seeking it in New Guinea instead?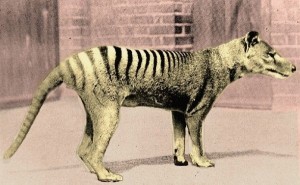 "The official extinction in 1936 on Tasmania of the remarkable thylacine (aka Tasmanian tiger and Tasmanian wolf – Tassie for short) Thylacinus cynocephalus, that tiger-striped canine marsupial mammal as big as a wolf but which could hop like a kangaroo and had a pouch like one too, is well-documented, as is its much earlier disappearance a couple of millennia ago on the Australian mainland. Less familiar, conversely, is the fact that during the Pleistocene epoch, ending a mere 11,700 years ago, the thylacine also existed on New Guinea. Similarly, whereas the chronicles of cryptozoology are fairly bulging with unconfirmed post-1936 thylacine sightings both on Tasmania and in mainland Australia, it is not so well known that modern-day reports of suspiciously thylacine-like beasts have also emerged from New Guinea, specifically Irian Jaya (New Guinea's less-explored western, Indonesian half), where such creatures are referred to by local people as the dobsegna."
Further details can be obtained
here
on my ShukerNature blog.