Posted by: Karl Shuker on June 29th, 2013
One of New Zealand's most iconic species of bird was the huia, famed for the male and female possessing beaks of dramatically different shapes. It officially became extinct in 1907 – but did it?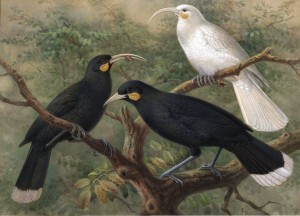 "The huia's morphology is unique. No other bird in New Zealand, whether native or introduced, can be readily confused with it – which is why the sizeable number of alleged post-1907 huia sightings has attracted notable scientific interest, with one such report, by a leading zoologically-trained cryptozoologist, dating from as recently as 1991. Also fascinating yet even less well known are various mysterious colour varieties that have been documented for this enigmatic species."
Further details can be found here, on my ShukerNature blog.