Posted by: Karl Shuker on September 2nd, 2013
The common European adder or viper Vipera berus occasionally produces albinistic and melanistic individuals, due to the expression of certain mutant gene alleles. Of course, these are not separate species, merely genetically-induced morphs of the common adder. As recently as the mid-1800s, however, many natural history tomes were still soberly stating that Britain was also home to a much more remarkable, additional viperine form, one so distinct in fact that it was classed as a separate species in its own right – Vipera rubra, the scarlet viper. As its names suggest, this eyecatching serpent was bright red in colour, and was also said to be a little smaller than the normal adder.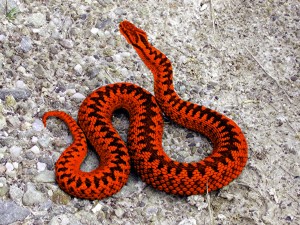 Yet it seemingly possessed a very limited geographical distribution, for it was only reported from certain parts of southern Dorset, particularly around Corfe Castle and Lulworth Cove. In those specific areas, however, the scarlet viper was apparently a familiar sight, which makes it all the more surprising that by the end of the 19th Century it had vanished not only from such localities but also from the natural history literature. Suddenly, it was as if the scarlet viper had never existed – expunged even from the records as well as disappearing from life. Why?
Further details can be found
here
on my ShukerNature blog.