Posted by: Karl Shuker on October 7th, 2013
Those iconic winged reptiles of prehistory known as the pterosaurs died out alongside the last dinosaurs over 60 million years ago… didn't they? Most mainstream zoologists would say that they did. Then again, most mainstream zoologists have probably never heard of the kongamato, the ropen, the duah, or a veritable phalanx of other winged mystery beasts reported from around the world that bear a disconcerting resemblance to those supposedly long-vanished rulers of the ancient skies.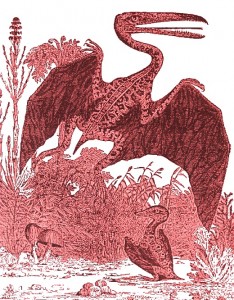 Could these cryptozoological creatures possibly be surviving pterosaurs? Read their histories here, and judge for yourself.
Further details can be found here at my ShukerNature blog.