Posted by: Karl Shuker on August 12th, 2013
Largest of today's living tapir species, and the only one that is native to the Old World, the Malayan tapir Tapirus indicus is further distinguished by its striking 'saddle' of white, encompassing much of its torso and haunches. In total contrast, its four New World relatives are all uniformly dark. Naturally, therefore, zoologists were nonplussed when one of the adult Malayan tapirs sent to Rotterdam Zoo in spring 1924 from Sumatra proved to be entirely black, with no saddle.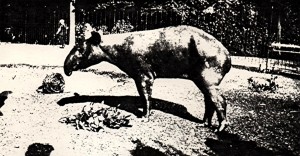 For there were no previous records of all-black Malayan tapirs, and not even Captain K. Brevet (of the Royal Dutch-Indian Army), from whom the tapirs had been received, had ever heard tell of such creatures before. So how could it be explained, and were there others?
Further details can be found here, on my ShukerNature blog.