Posted by: Karl Shuker on August 19th, 2013
Black lions and black pumas (aka cougars, mountain lions) are two of the three most controversial melanistic mystery cats, which I have blogged about in previous articles. Now, to complete this trio of ebony enigmas of the feline kind, here is my investigation of its third member – the black tiger.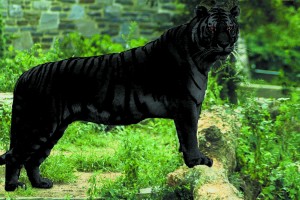 By this, I am referring to tiger specimens whose coats exhibit an abnormally dark background colouration, thereby rendering their stripes cryptic, visible only when viewed at close range in certain lights or at certain angles.
Further details can be obtained here on my ShukerNature blog.