Posted by: Karl Shuker on August 15th, 2013
Isn't it amazing what you can uncover on clip-art sites? While browsing through various of these a couple of nights ago in search of some public-domain animal images for various future writing projects, I came upon a remarkable 19th-Century engraving that was labelled as an indri, but what was so intriguing and unexpected about it was that it was almost entirely black.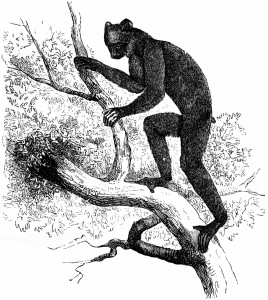 Needless to say, this is in stark contrast to the very striking black-and-white pelage most commonly associated with this very large lemur. So how can it be explained?
Further details can be found here, on my ShukerNature blog.