Posted by: John Kirk on August 20th, 2006
One of the strangest cases the RCMP has been called upon to investigate was the Gillman of Thetis Lake on Vancouver Island. Situated near the community of Cottonwood, Thetis Lake is not really much of a lake, but in reality is more of a glorified pond. On August 19, 1972 two young men, Robin Flewellyn and Gordon Pike, were traumatized by a creature resembling a sci-fi horror film beastie which emerged from the lake and attacked them. The beast was silvery grey in colour and possessed webbed hands and feet. It used sharp protrusions on its hands to slash one of the boys who sustained a relatively nasty cut. The creature pursued the boys almost as far as their car, before they were able to speed away to the nearest RCMP detachment.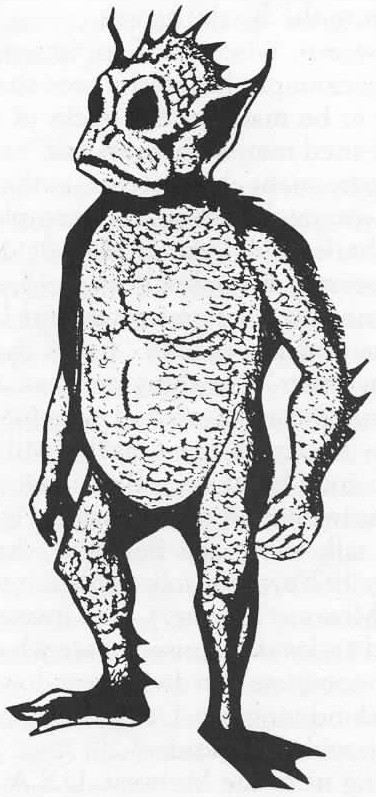 Curious Encounters (Boston: Faber and Faber, 1985) by Loren Coleman
The boys related their fantastic tale to the RCMP members on duty that day and impressed by the sincerity and honesty of the boys, the detachment launched a full investigation into the occurrence. They searched the lakeshore for footprints and other telltale signs of the creature's presence, but nothing was found to support Pike and Flewellyn's story.
As it seemed the investigation would wind down for lack of evidence, pandemonium broke loose at 3:30 in the afternoon on August 23. Two different young men, Russell van Nice and Michael Gold witnessed the emergence from Thetis Lake of a silvery, scaly, monstrous abomination. They described it as having huge ears, sharp projections on its head and a monstrous face. Despite its aggressive appearance, the monstrosity did not attack the two youths.
Once more, the RCMP was called in and more investigative work took place, but again there was nothing to indicate that the Thetis Lake Gillman existed other than the mystery wound on Robin Flewellyn's hand. As quickly as the Gillman had grabbed the headlines, it equally rapidly disappeared from them when no further activity from the aquatic anomaly was reported. The RCMP closed the files on this case and I don't ever expect it will be reinvestigated – except by cryptozoology researchers.