Posted by: Karl Shuker on July 19th, 2013
The discovery of supposedly blood-drained animal carcases hit the cryptozoology headlines with monotonous frequency (I noticed yet another one being discussed online just a few days ago), accompanied by the usual (and sometimes decidedly unusual) media speculation as to what diabolical entity could have been responsible for such a hideous, unnatural act. In reality, of course, no such entity – diabolical, vampiric, or otherwise – is responsible, because it is highly unlikely that such carcases really are blood-drained (variously termed desanguinated or exsanguinated). They merely look as if they are, particularly to the pathology-untrained eye, which is a very different matter altogether.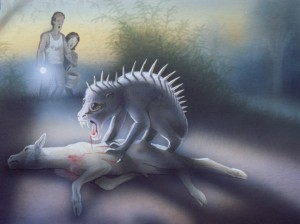 Over the years, many culprits for such unsavoury activity have been proposed – the chupacabra or goatsucker being the favourite identity if said carcases have been discovered in the New World; and various mystery carnivores, such as escapee/released big cats and even the (very) odd absconded far-from-home thylacine, if elsewhere. Ironically, however, the true nature of these carcases has already been investigated, uncovered, and publicly exposed for all to see and read…
Further details can be found here, on my ShukerNature blog.