Posted by: Nick Redfern on April 21st, 2013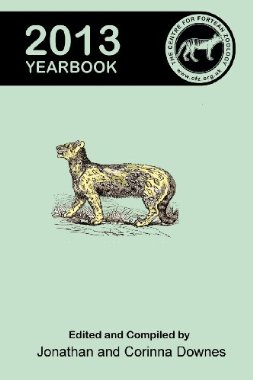 Jon Downes, of the Center for Fortean Zoology, tells us:
"The Centre for Fortean Zoology Yearbook is an annual collection of papers and essays too long and detailed for publication in the CFZ Journal, Animals & Men. With contributions from both well-known researchers, and relative newcomers to the field, the Yearbook provides a forum where new theories can be expounded, and work on little-known cryptids discussed. This year's volume was greatly delayed by the computer problems we had earlier in the year. But it is out now, and phew its a corker!"
Here's where you can buy the book.
And here's the contents:
More Cryptozoology: A Listing of Certain Animals Unrecognised by Science or of a Paranormal Nature by Ronan Coghlan
Snow Leopard: Spirit of the Mountains by Raheel Mughal
The Man-Eating Plant of ye Olde England by Glen Vaudrey
Possible Sighting of Unknown Ape Species, Tibet 2009 Jonathan Jacobs, plus in-depth analysis of the photograph
British Snake Catchers and Eccentrics by Richard Muirhead
The Amazing Animals of Pakistan by Raheel Mughal
The Mpisimbi: An Undiscovered but now Extinct King Cheetah Strain in East Africa by Dr Karl Shuker
The 'Lion' Of Essex And Other British Big Cat Scares by Neil Arnold
Le Gevaudan: The Man Behind the Monster by Paul Williams
2012: A Year in the Life of the Centre for Fortean Zoology: CFZ Australia 2012 Report by Rebecca Lang and Mike Williams
CFZ Canada 2012 by Robin Bellamy
Bigfoot Forums Annual Report
CFZ Annual Report by Jon Downes
And here's a few more words from Jon on the topic of the new Yearbook:
"The yearbook is 260pp long and will once again cost £12.50, unless – of course – you take advantage of our special offer and buy the book at a special low price of £10.99. This offer is valid in the UK, Australia, the United States and Canada. If you live elsewhere in the world, email corinna@cfz.org.uk
and we will work out a deal for you. Also available yearbooks for: 1996, 1997, 1998, 1999, 2000/1, 2002, 2003, 2004, 2007, 2008, 2009, 2010, and 2012. If you want to buy multiple volumes email Corinna and I am sure that we can work out an advantageous deal for you."