Posted by: Nick Redfern on September 10th, 2013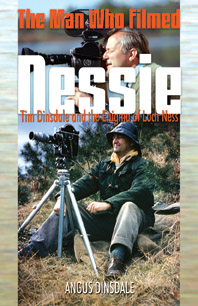 Over at his Loch Ness Mystery blog, Roland Watson reviews Angus Dinsdale's book on his legendary father, Nessie-seeker, Tim Dinsdale. Its title: The Man Who Filmed Nessie.
Roland begins…
"Twenty six years after his untimely death, a biography on the greatest hunter of the Loch Ness Monster has finally arrived. The author is that hunter's own youngest son, Angus Dinsdale, who was born the night the BBC televised Tim Dinsdale's famous footage on their Panorama programme.
"Perhaps that juxtaposition of Loch Ness Monster and family life sums up the man who devoted twenty seven years to the hunt for that most elusive of quarries. It was some weeks earlier that he had shot a minute of film showing a dark object crossing Loch Ness. The author of the book is in no doubt as to what he filmed. He was the man who filmed Nessie."