Posted by: Karl Shuker on May 11th, 2013
Things are rarely what they seem in cryptozoology, as epitomised by the following case investigated by me.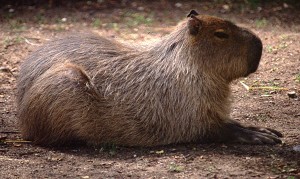 "Reading through some correspondence tonight reminded me of the time when I received an interesting letter from one longstanding correspondent, Miss Lorna Lloyd of Worcester, England, describing the head of a strange animal mounted as a trophy on a shield, and seen in an antique shop in London's famous Portobello Road. My correspondent likened the head to that of a gigantic guinea pig with greyish rabbit-like colouring, mentioned that the shield was engraved "Kintail 1894″ , and stated that Kintail is one of the wilder areas of Inverness-shire. What could this creature possibly be?"
>Further details can be found here on my ShukerNature blog.