Posted by: Loren Coleman on September 18th, 2008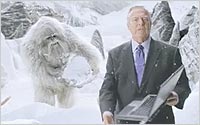 I saw it last night, and there it was…extending the mythical "white" Yeti motif. It reminded me more of a Wampa than a Yeti.
Accessing the Internet at faster speeds is the premise behind two new AT&T Mobility 30-second ads running on a variety of cable television stations through Oct. 19.
The ads target professionals who tote laptops that provide Internet access to download presentations, submit orders, or send emails. These road warriors want the freedom to wirelessly connect to the Internet beyond the capabilities of today's cellular phones.
The series puts Bill Kurtis, the acclaimed journalist credited with covering the Charles Manson trials and breaking the story on Agent Orange during the Vietnam War, in the midst of another grandiose news story, discovering the Internet.
The latest spots, "Rainbow" and "Yeti," were created by BBDO. Whether finding a pot of gold at the end of a rainbow on a grassy countryside or discovering Yeti in the Arctic, the two ads continue the theme from earlier this year when Kurtis discovered "Amelia" Earhart and the "Fountain of Youth."
At the close of each ad, he says: "I'm Bill Kurtis, and I've just found the Internet."