Posted by: Loren Coleman on September 24th, 2006
A helicopter full of the intelligentsia of Nepal's Himalayan conservation and forest management has been apparently found. Radio contact with the craft was lost on Saturday, September 23, 2006, while it was in a remote mountain area of Nepal, 190 miles (305km) east of the capital, according to Reuters.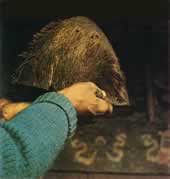 I note that several of the people on the copter may have had dealings with the search for the Yeti or Abominable Snowmen in the region. One individual, specifically, had been an outspoken advocate of the Yeti in recent years. Nepali environmentalist Mingma Norbu Sherpa (above and below), who did the foreword to a photoautobiography of Edmund Hillary, had studied the natural history of the Yeti and placed his opinion on the record, especially regarding the misinformation circulating that the Yeti was just a bear.
Mingma Norbu Sherpa (above) felt the "Yeti is definitely not a brown bear because it cannot go beyond the altitude higher above 3500 meters approximately. During monsoon season brown bear used to come to the higher altitude forest and eat animals and plants. Based on this assumption he concluded, 'I think people have come to conclusion due to this reason'," wrote a reporter for the Italian National Research Council in 2005.
The Shree Air helicopter was carrying delegates who had gone to attend the Kangchenjunga Conservation Area handover at Taplpejung, Nepal. They are all still missing and presumed dead, although weather is hampering teams who are trying to reach the downed helicopter.
The following is the list of persons aboard Shree Air 9NAHJ, as published by the World Wildlife Fund:
1. Mr. Gopal Rai, Minister of State of Forests and Soil Conservation (Nepali)
2. Mrs. Gopal Rai (Nepali)
3. Dr. Damodar Parajuli, Acting Secretary – Ministry of State of Forests and Soil Conservation (Nepali)
4. Mr. Narayan Poudel, Director General of Department of National Parks and Wildlife Conservation (Nepali)
5. Mr. Sharad Rai, Director General of Department of Forests (Nepali)
6. Mr. Pauli Mustonnen, Charge d'Affaires, Embassy of Finland (Finnish)
7. Ms. Margaret Alexander, Dy. Director, USAID (Amercian)
8. Dr. Bijnan Acharya, Program Dev. Specialist, USAID (Nepali)
9. Dr. Jill Bowling, Conservation Director, WWF UK (Joint Swiss-Australian nationality)
10. Ms. Jennifer Headley, Coordinator, WWF UK (Canadian)
11. Mr. Mingma Norbu Sherpa, Managing Director, EHEC, WWF US (Nepali)
12. Mr. Matthew Preece, Program Officer, WWF US (Amercian)
13. Dr. Chandra Gurung, Country Representative, WWF Nepal (Nepali)
14. Dr. Harka Gurung, Advisor, WWF Nepal (Nepali)
15. Dr. Tirtha Man Maskey, Co-Chair, AsRSG (Nepali)
16. Mrs. Yeshi Lama, WWF Nepal (Nepali)
17. Mr. Vijaya Shrestha, Central Committee Member, FNCCI (Nepali)
18. Mr. Hem Raj Bhandari, Nepal Television (Nepali)
19. Mr. Sunil Singh, Nepal Television (Nepali)
20. Mr. Dawa Tshering, Chairperson, KCAMC (Nepali)
21. Crew 1 (Russian)
22. Crew 2 (Russian)
23. Mr. Mingma Sherpa, Captain (Nepali)
24. Mr. Tandu Shrestha (Crew) (Nepali)