Posted by: Loren Coleman on February 16th, 2008
Lots of attention, needless to say, is being given by the media to the Northern Illinois University shootings on Valentine's Day. I've posted my thoughts about that so-called "rampage" and Valentine's dangers over at my Copycat Effect blog, here, here, here, and here.
I felt now might be the time at Cryptomundo to publish an email you'll find below. I've been holding onto until it seemed like an appropriate moment to share it. Insights into the mind of a Bigfoot eyewitness who turned into a killer is sometimes more confusing than one can imagine.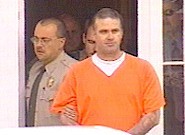 The following was sent to me by a relative (I'll withhold the name) of Yosemite Killer Cary Anthony Stayner. Stayner said he saw Bigfoot and sent me drawings of it.
It will be recalled that Stayner carried out his initial murder spree (or at least the one we know about) over Valentine's weekend in 1999, and used Bigfoot to talk to the park ranger he killed.
This following note, at some level, is downright chilling:
I would like to add as a family member to Carey Stayner, as long as I could remember Carey was out running [and] climbing mountains. I remember when he first had told me and my brother of what he had seen [the Bigfoot], he would go very blank in the face as if he was being very serious or like somebody was watching him. He would tell us about the smell the creature had and that it was alot bigger than him. We were very young but we knew he wasn't playing a joke on us. I remember when I went to Camp Green Meadows in the 6th grade he told me to stay close to all the teachers and no matter what don't go out at night. He never really seemed the same to me after he had seen Bigfoot. So to me, maybe that's what drove him mad? You never know.
+++
For one of those strange coincidences, in what I call the twilight language of all of this, please note the significance of Valentine's Day in the legacy of the Stayner family, a Mormon family who had been touched before on Valentine's Day:
Stayner family's woeful history
San Francisco Examiner 26 Jul 99 L5
By Zachary Coile and Matthew Yi: Examiner Staff

Merced, California ~ When an FBI agent called Assistant Sheriff Henry Strength on Saturday morning looking for a criminal record of a possible suspect in the murders at Yosemite, he asked for the name Cary Stayner. Knowing the name sounded familiar, Sheriff Strength went to work. He had been a young patrol officer in 1972 when 7-year-old Steven Stayner was kidnapped from the streets of Merced only returning home on Valentine's Day of 1980, when he walked into a Ukiah police station along with another 5-year-old abductee, Timothy White.

Steven Stayner was an instant hero and the 14-year-old later became the subject of the NBC miniseries "I Know My First Name Is Steven." "It was a shock," Strength said. Steven's brother, Cary, 37, was the prime suspect in the killing of a Yosemite naturalist and an FBI prime suspect in several other murders.

Shock was a familiar reaction to residents of Merced, a San Joaquin Valley city 100 miles from San Francisco. It was here that Steven Stayner was considered a hero for escaping from a child molester in 1980. He later joined the LDS Church, married and had two children, only to die at age 24 in a motorcycle accident, nine years after he escaped.

When 7-year-old Steven was approached by Ukiah hotel clerk Kenneth Parnell, the boy was asked if he wanted to donate something to a church. "I said, 'Well, yeah. I think my mom might donate something.'" Steven told authorities years later. "He said, 'OK,' and gave me these booklets and he asked me if I wanted a ride home." "And I said, 'Well, it's just a little ways, I can walk.'" "He goes,'OK. Don't worry. I'll just give you a ride home.' "And I go," 'Well, OK,' "and so I got in the car."

This began the seven-year nightmare in which Parnell held and sexually molested Steven. He forced the boy to call him "Dad", telling him that he was no longer wanted by his parents.

Years later after returning home and putting his life back together, Steven Stayner married at age 24. With two children, he and his family joined the Mormon Church. Assistant Sheriff Strength said Stayner was on the waiting list for a job as a county jail guard.

On September 20, 1989, Steven was riding his new Kawasaki motorcycle without a helmet in the rain. He skidded trying to avoid a car and fatally struck his head. After Steven's death, his parents sold the family home and moved.

"They did mention about finally getting a chance to get out of here," said Ennis Mayberry, 36, who bought the house from the Stayner 10 years ago. "They said they wanted to get away and wash away some bad memories."

In December of 1990 the family was dealt another blow, but not its last. Jesse "Jerry" Stayner, 42, Cary and Steven's uncle, was shot to death in his Merced home. The murder remains unsolved.

"I was just talking to someone about this. We were talking about the Kennedy family, and all the bad things that have happened to them," Sherriff Strength said. "Then you have Steven Stayner get kidnapped, and then he comes back and gets killed in a motorcycle accident. Then his uncle gets killed in a homicide. And now this. It happens to all families, I guess."