Posted by: Loren Coleman on August 5th, 2008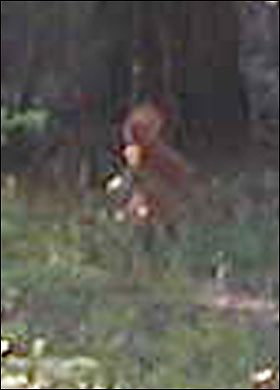 Tahoe Elf? Nevada Faery? Lake Tahoe Leprechaun? Deneau's Hobgoblin?
There is a world of good names out there, and this one cannot go down as a "leprechaun-alien" for long, please.
Lloyd Deneau, 41, of Florida was on vacation at Lake Tahoe, located along the border between California and Nevada, west of Carson City, Nevada.
He decided to photograph some interesting trees in a forest there. (When? Exactly where? The reports don't say.)
The he thought he'd seen a tiny creature darting from the forest. Deneau took out his camera and proceeded to take a picture of it.
What he saw startled him, and so he snapped off a photograph.
The object, which was called by the unfortunate name already mentioned, temporarily by children, was no taller than three feet and very elf-like.
Deneau swears the image has not been doctored.
When I took the picture I'm sure there was no one there. It was only when I downloaded it on my camera that I saw it. I showed it to my friends and family but no one can explain it.

My kids coined it the 'leprechaun-alien.'

I have a military background and don't really believe in aliens, but I can't explain this. ~ Lloyd Deneau
As well as an elf, leprechaun and alien, the figure has also been described as a baby Bigfoot.
Is it a Proto-Pygmy, a gag, or a squirrel? A fairy, a fake, or someone's photo fantasy?
I'll keep you abreast of any photo analyses or further details that I see in the next few hours or days.
The story first broke in the UK tabloid The Sun and then soon by Fox News.