Posted by: Loren Coleman on September 20th, 2008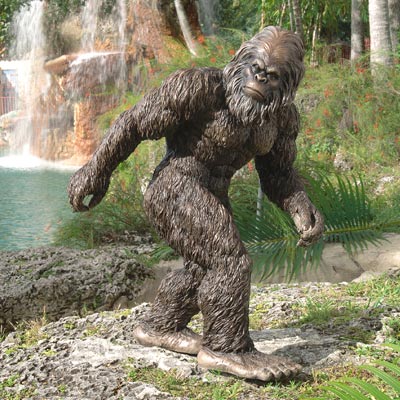 You've read about the story here earlier, in the "Sasquatch Statue Stolen" posting, about what happened at Niki's Quick Six.
We even have appreciated the video plea from Nicole Hosack and her employee.
Ms. Hosack, the owner of Niki's Quick Six has been trying hard to get her hubbie's Sasquatch back. The backstory about her husband's and his friends' early interest in hunting Bigfoot is intriguing, but the focus has remained on getting the statue back. Now there is new news.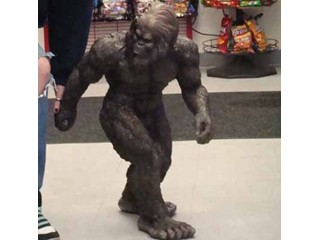 The following article fails to mention that Cryptomundo offered to send them a replacement statue, but the account does have an actual breaking update on Niki's Quick Six store's "Toscano Design Garden Bigfoot" theft.
Missing Sasquatch remains afoot

By Chuck Biedka
VALLEY NEWS DISPATCH
Saturday, September 20, 2008

Nicole Hosack still hasn't had her beloved Bigfoot statue returned to her store, but she knows that a Ford City man has been charged with stealing it.

Joshua E. Duncan, 32, of Ford City waived a theft charge to Armstrong County Court. He is free without bond.

Police said Duncan and others, including two soldiers on leave, on June 16 took the 30-inch Sasquatch from Hosak's Niki's Quick Six store. It's made from a material that makes it look like carved wood.

Police said the Bigfoot was pilfered under one of the culprits' coats as joke.

But it upset Hosak and a large number of her customers.

"Many people visited the store to have their photo taken with it," Hosak said. "We had a couple from Philadelphia divert from their trip to see it."

Bigfoot is worth about $100, but its sentimental value is much greater because it was a gift from her husband.

Police think the statue was taken to a military base in North Carolina.

Hosak said Kiski Township police gave Duncan three weeks to return it without charges being filed.

"At one point I was told they would FedEx it," she said.

That didn't happen. Instead, all she got was an excuse.

"I was told that a foot was broken off and I said, 'OK, give it back anyway.' But he didn't."

Attorney Jim Wray, who is representing Duncan, said an agreement was offered to Duncan "but for some reason it didn't happen."

The theft sparked media attention.

A Bigfoot society sent her a T-shirt. Someone else mailed her another Bigfoot shirt.

Someone from Derry in Westmoreland County sent her a plaster cast of alleged Bigfoot footprints.

"Bud" Barr Jr. of Flat Rock Road, Kiski Township carved her a 6-inch replica out of wood — little Bigfoot.

She appreciates the concern, but said people still ask about the "little Bigfoot's big brother."

Said Hosak, "We just had a little girl ask her father, 'Daddy, what happened to the big statue?'"