Posted by: Loren Coleman on December 7th, 2010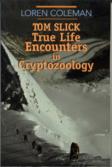 Tom Slick: True Life Encounters in Cryptozoology.
Fresno: Craven Street/Linden Press, 2002.
Tom Slick and the Search for the Yeti. 
Boston: Faber and Faber, 1989.
---
2 Responses to "Tom Slick Expeditions"
YowieLover

responds:

December 7th, 2010 at 9:03 pm

On watching the video I was most displeased at the nonchalant way Peter Byrne talks about the plan to STEAL part of the yeti hand from the monastery and then carried out such a devious act like it's just a part of research.

With scruples like that, what sort of other funny business is he up to in his research.

Astonishingly shocking values system there!

Sorry Loren, you can't say 'took' part of the yeti hand. Call it what it was…stealing!

m

responds:

December 8th, 2010 at 4:17 am

Have to agree with YowieLover here. Either one stands by one's ethics and can, possibly, prove one's theories, or all possible deductions/inductions become suspect.
---
---
Leave your comments
You must be logged in to post a comment.