Posted by: Loren Coleman on January 20th, 2010
[Updated from January 18 to January 20. See comment section below for link to confirming new verdict as to the id of this specimen.]
I find no malice in the guys that posted the video, but just honest curiosity. However, what has become of their questions is well on its way to joining the usual media "Chupa" circus.
Sorry but this is another Texas "chupacabra" that translates into, not the traditional spike-haired, bipedal Puerto Rican Chupacabras, but, instead, another American misidentified canid. Or, apparently in this case, a dead procyonid.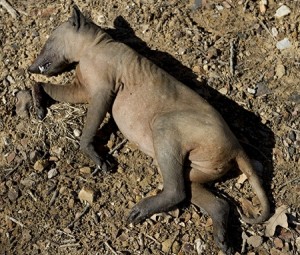 While this popped up on YouTube, it is the World Weekly News that has decided to get behind it. Please, consider the source.