Posted by: Loren Coleman on April 27th, 2010
Old records have been released reinforcing the speculation that the original Loch Ness Monster sightings in the 1930s were taken seriously.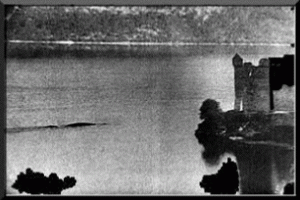 The BBC News details how this happened: "In 1933, the Scottish Office was asked to confirm the existence of a monster or sea serpent in Loch Ness. A parliamentary question was tabled in the House of Commons asking whether, in the interests of science, an investigation would be launched into the creature's existence, but the question was ridiculed by the press at the time. Ministers and civil servants were sceptical, but the documents show consideration was given to issues such as stationing observers round the loch to capture Nessie on camera and whether it would be possible to trap the monster without injury.
In the end it was felt that as the creature was popular with the public, it would be better not to kill either it or the myth."
 
In 1938, William Fraser, Chief Constable of Inverness-shire felt it might be important to protect the Loch Ness Monsters from hunters. His letter stating this has been released by the National Archives of Scotland (NAS) as part of a new exhibition. His letter reads, in part: "That there is some strange creature in Loch Ness now seems beyond doubt."
The BBC continues:
The letter from William Fraser, the chief constable of Inverness-shire, to the Under Secretary of State at the Scottish Office, raises concern about the arrival of a hunting expedition in Fort Augustus in 1938.
It says they are "determined to catch the monster dead or alive".
The document goes on to describe how the party claimed they were having a special harpoon gun made and would return with 20 "experienced men" to track the monster down.
"That there is some strange creature in Loch Ness seems now beyond doubt, but that the police have any power to protect it is very doubtful," the letter concludes.
"If you have any suggestion to make or can offer any guidance in the matter, I shall be grateful."
Many sources are now detailing this news, although one of the first was the BBC News.
The Herald-Sun notes that Fraser "warned of a hunting party, led by a Londoner called Peter Kent, intent on capturing the monster 'dead or alive'."
The Telegraph shares more details:
He told the minister that a London couple, Peter Kent and Marion Stirling, "are determined to catch the monster dead or alive".
Mr Fraser's typed letter states: "Mr Peter Kent visited Fort Augustus on Friday, August 12, and was seen there by my officer stationed at Fort Augustus, to whom he stated that he was having a special harpoon gun made and that he was to return with some 20 experienced men on August 22 for the purpose of hunting the monster down."
He added: "I have, however, caused Mr Peter Kent to be warned of the desirability of having the creature left alone, but whether my warning will have the desired effect or not remains to be seen."