Posted by: Loren Coleman on September 30th, 2012
Penn Lake Park Council President Jack Kile said he didn't believe the reports of a peacock sighting.
"I thought it's probably a turkey because we get people here from the city and they don't know diddly, you know? They get excited if a possum runs through their yard and then I heard it was a peacock," said Kile.
Okay, then what was this that the folks photographed?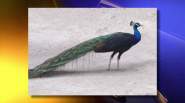 See video here, if below doesn't come through.
http://wnep.com/2012/09/28/peacock-sighting-in-luzerne-county-community/#ooid=ljcnMxNjpjSscbw9A2XPZZ7qJ4NmPWTw