Posted by: Loren Coleman on April 22nd, 2012
Questions are being raised a day after news of the new sonar image became widespread.
First off, it has been brought to my attention, as noted at the "Loch Ness Investigation" site of Dick Raynor's, that,
"From time to time people on boats see unusual images on their fish-finder sonar screens, and if they are on Loch Ness there is always the possibility of accidental misinterpretation."
Exampled explanations are shown here.
But perhaps truly damning, this year "Cruise Loch Ness" are running special monster hunting trips with underwater cameras on the boat skippered by…Marcus Atkinson – the man behind all the publicity of this new "discovery."
Therefore, some locals are questioning Atkinson's big splash in the media this week. Is it a marketing move?
Added data from Loch Ness investigator Tony Harmsworth:
"I know of six operators: Jacobite Cruises from Inverness and the Clansman Harbour; Deepscan from the Loch Ness Centre; Loch Ness Cruises from Nessieland Castle Monster Centre; Castle Cruises from the Drumnadrochit Car Park and Loch Ness Gifts (this is the one Dick Raynor skippers quite often); Cruise Loch Ness [associated with Marcus Atkinson] from The Canal at Fort Augustus & Loch Ness Express, which I think is the one that got the sonar contact in question although I understand they might be associated with Cruise Loch Ness and also works from the canal at the Fort."
+++++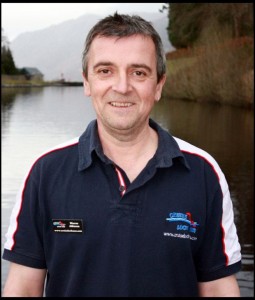 Skipper: The Loch Ness boat captain Marcus Atkinson
BNPS
A new sonar picture that shows a large unidentified living object deep underwater – is it Nessie – was recorded by Loch Ness boat skipper Marcus Atkinson. It was recorded at 75 feet, and reportedly measures 5 feet wide. The image was taken in Urquhart Bay, and whatever it was was said to follow his boat for two minutes.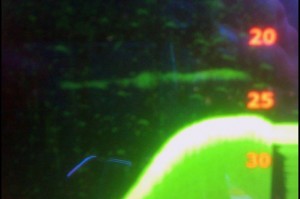 Beast? The sonar image appears to show a 'serpent like' creature towards the top, as recorded by Marcus Atkinson's sonar fish-finder.
BNPS
The Mirror News gives these other details:
The consistent marks on Marcus' sonar create a horizontal mass, which is not an indicator of length.

Excited Loch Ness monster experts have ruled out the 'sighting' being any other fish, seal or wood debris and believe it is proof of an unknown creature in the Loch.

The image, that Marcus took on his mobile phone of his sonar screen, has won him first prize in the Best Nessie Sighting of The Year Award run by bookmakers William Hill.

Marcus, 43, from Fort Augustus in the Scottish Highlands, said: "I was dropping customers at Urquhart Castle and then got my boat out of the way of the other tour companies.

"I moved out into the water and looked at the sonar and saw this image had appeared.

"The device takes a reading of the depth and what is below the boat every quarter of a second and gradually builds up a picture, so it covered a time of about five minutes.

"The object got bigger and bigger and I thought 'bloody hell' and took a picture with my mobile phone.

"There is nothing that big in the Loch. I was in shock as it looked like a big serpent, it's amazing.

"You can't fake a sonar image. I have never seen anything returned like this on the fish finder.

"It is a bizarre shape to me. I have shown it to other experienced skippers and none of us know what it was.

"I have seen a lot of pictures in 21 years of being here but this is the most clearest image yet.

"Undoubtedly, there is something in the loch."

Steve Feltham, 49, a full-time Loch Ness monster hunter said: "We know that there are no animals in the loch that are as big as the image here, the biggest thing we see are seals which are nothing compared to this.

"It's also totally unexplained and can't possibly be fish because in water 75ft down you just wouldn't find them.

"It's very exciting and the best evidence we have had in donkey's years.

"There is usually a mundane explanation yet no one has come up with one for this."

"There is definitely something in the loch, there have been too many pictures and eye witnesses so there must be something."

But other marine experts claim the mystery object may well have been algae in the water.

But Dr Simon Boxall, from the National Oceanography Centre in Southampton, Hants, said:" "The image shows a bloom of algae and zooplankton that would exist on what would be a thermocline."The Mirror News