Posted by: Loren Coleman on September 22nd, 2008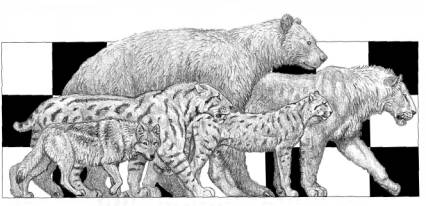 The Carnivores of Rancho La Brea.
From left to right. The dire wolf (Canis dirus), the sabre-toothed cat (Smilodon fatalis), the short-faced bear (Arctodus simus), the cheetah-like cat (Miracinonyx sp.), and the American lion (Panthera leo atrox). Modified from Turner, A., and Anton, M., The Big Cats and Their Fossil Relatives. Columbia University Press: New York, 1997.
Yes, the headline here has a double-meaning. You have been forewarned.
Cryptozoologist Matt Bille mentioned earlier this month, "There is no airdate yet for the 'Prehistoric Bears' episode, so everyone please keep your eyes peeled for that one."
Bille was interviewed for the forthcoming "MonsterQuest" episode on Mystery Bears. Now, the official student newspaper at East Tennessee State University shares more about the future program, from reporter Patrick Hawkins. His essay is carried in the September 22, 2008 edition of The Scene: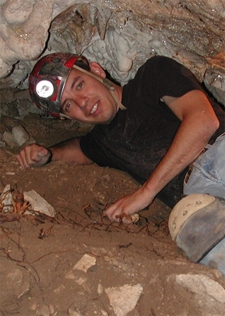 Dr. Blaine Schubert [pictured from his official website], an ETSU paleontologist specializing in ice age faunas, will be a specialist featured on two of the History Channel's new television series.

One show, MonsterQuest, dives into cryptozoology, the study of animals without scientific evidence to support their existence.

Subjects covered on this program include everything from Bigfoot, the center of a recent hoax in northern Georgia, to rodents of unusual size lurking in the underbelly of New York City. The episode airs for the first time on Wednesday, Sept. 24 at 9 p.m.

The show tries to establish neutrality by interviewing alleged witnesses of monsters along with scientists who need more evidence.

Schubert, as a research scientist, will certainly be on the side demanding hard evidence. He was approached to do the show by a Canadian production company who knew of his reputation for working on short-faced bears, on which he has studied samples locally and throughout the country, including the Gray Fossil Site's own small short-faced bear.

His first response when approached was to say, "If I'm part of this episode, most likely I'm going to be your spoiler." This turned out to be exactly the input they wanted.

His task in the interview is basically to explain what a giant bear would be like and the feasibility of it surviving today from objective evidence.

Mammoth fossils from Saltville, Va., where Schubert has organized and led digs, were taken via airplane to the filming location so that he could explain the evidence of carnivore activity in the form of teeth marks on the bones.

It is easy to see how carrying giant bones wrapped in foam through airport security could end up badly, and he fully expected to be stopped by bag checkers.

However, Schubert was mostly surprised by the objections of a security guard who didn't believe in fossils.

For these television shows, interviews took place in various locations, including Alaska, Texas and the Smithsonian Museum in Washington, D.C.

Only researchers are allowed into the collections area of the Smithsonian, so there might be an effort made by the production company to portray a sensational conspiracy theory of the research going on. Schubert explained that this was certainly not the case.

"When it comes to paleontology, I don't think you have to do that," Schubert said. "It already is cool, but too often they try to make it more than it is by adding things that sound like facts."

The second show is fantastic in a different way. It is called Jurassic Fight Club and portrays hypothetical encounters between extinct animals. As the name suggests, most episodes are about dinosaurs.

However, as Schubert's area of expertise is mammals, he was called in for the irregular episode exploring the conflict between the "giant short-faced bear, which stood about 5 feet tall to the shoulder while on all fours, to the American lion, which was basically a beefed-up version of the African lion."

For digital media students, you'll be happy to know that this episode has been postponed because they are having a hard time with the digital re-creation of the bear.

It should be airing sometime this fall.

The media exposure is a sure sign that programs are growing and flourishing at ETSU. For professors here, the main goal is to contribute publications to scholarly journals and run a world-class fossil site and museum.

Another goal is to educate students or anyone else interested, and appearing on popular television shows is one very good way to do that.

Schubert said he is very excited about seeing the finished product on TV, although he admits that he is nervous to see if he will be accurately represented.

It has to make a researcher anxious to provide interviews then not have any say in how they are edited and used.

Paleontologists are also not accustomed to being filmed in front of a green screen with makeup, but for anyone as excited as he is about fossils, it is a great opportunity.

As he said, "It's good exposure for the university, for paleontology, and it's just fun to talk about."