Posted by: Loren Coleman on October 10th, 2008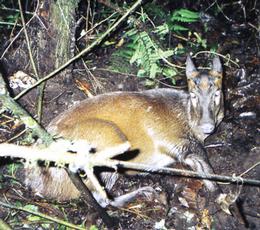 Sumatran muntjac (Muntiacus montanus). Credit: Debbie Martyr FFI-KSNP.
Debbie Martyr is well-known in cryptozoological circles for her fieldwork detailing the evidence for the Orang-Pendek in the Kerinci-Seblat National Park and other areas in Sumatra. As I've mentioned, I am happy to have assisted her with obtaining her first visa into Sumatra to study the reports of this possible next great ape discovery. Now, breaking news is issuing from the area that she has rediscovered the Sumatra muntjac (Muntiacus montanus), first discovered in 1914, and only last seen in 1930.
Martyr has been in Sumatra for over two decades, as part of a team working for Fauna & Flora International (FFI) and the Kerinci-Seblat National Park Tiger Protection, which found the muntjac when they rescued it from a hunter's snare on an anti-poaching patrol 6400 feet above sea level in the national park. Dr. Colin Groves, a former board member of the defunct International Society of Cryptozoology and an international taxonomy authority on the muntjac, confirmed the animals in the photographs were indeed Sumatran muntjacs.
FFI Kerinci-Seblat Programme Manager, Debbie Martyr, managed to take photographic proof of the rescued deer – the first ever photographs of a live specimen. Two more individuals were subsequently photographed, using automatic infra-red camera traps at a different location in the park.
The Sumatran muntjac is being characterized as a "lost species" of deer because while it was originally discovered in 1914, it has not been seen since 1930. The general belief is that the type specimen for the deer, originally held at the Raffles Museum in Singapore, was lost when the museum was evacuated as the Japanese prepared to invade Singapore in early 1942, until its recent discovery at the National History Museum.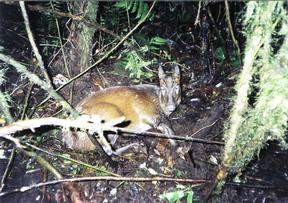 Sumatran muntjac. Credit: Debbie Martyr FFI-KSNP.
Taxonomists have now confirmed that the Sumatran muntjac is a new species and not a local sub-species as previously assumed. The species is distinctly smaller and darker than its more common sister species, the red muntjac (Muntiacus muntjac) (also known as the Indian muntjac or barking deer).
The "lost muntjac of Sumatra" has now been placed on the International Union for Conservation of Nature (IUCN) "Red List" of species in danger, under the category "data deficient," meaning field research is urgently required to establish the details of the deer's range, ecology and population status.
This encounter shows just how much we still have to discover about Sumatra's rainforests and the biodiversity of Kerinci-Seblat National Park. Yet even as we are learning, the tropical rainforests of Sumatra – even in the mountains and national parks – are under threat. We face losing species we didn't even know existed. We are also concerned that climate change poses a significant threat to this species – they are a mountain dwelling animal and depend entirely on a montane forest habitat. Where can they go if global temperatures rise significantly? Debbie Martyr
We were already very proud of this national park and its globally famous biodiversity and that pride has increased further with this new discovery. I hope that we can all work together – communities, local government and the national and international scientific and conservation community – to study and conserve this new species of deer for the future.

One of the functions of a national park is to increase knowledge: This discovery shows the importance of further research into the hill and montane rainforests of Sumatra. I strongly suspect that more new species remain to be identified in the forests of Kerinci-Seblat National Park.Suyatno Sukandar, Director of the Kerinci-Seblat National Park Authority
This is an important discovery and it adds to our knowledge of the specialness of Sumatran fauna. It would be very interesting to see a field study to determine what the ecological requirements of the two different species are, the widespread lowland species compared to the endemic species – the montanus. When I saw the photos, I immediately recognized montanus. Its colouration and antlers are both significantly different from its sister species, the red muntjac. Professor Colin Groves of the Australian National University in Canberra
The taxonomist who submitted Muntiacus montanus to the IUCN Red List, said:
Muntjac have largely lain obscure for the twentieth century and we have certainly much more to learn about them. The montanus story epitomizes this, and should also be seen as a warning of the seriousness of current global environmental deterioration and what we stand to lose; known and unknown.Robert Timmins
This muntjac recorded in Kerinci Seblat National Park is extremely important scientifically. We very much hope that, as a result of these photographs, research is launched that will focus on the status and distribution of these muntjac and that the results can be used as a basis for the management of protected areas in which they are present, not least because of human activities which threaten habitat or ecosystems in these conservation areas. Achmad Jauhar Arief MSc, Head of Zoology, Research Centre for the Indonesian Academy of Sciences – Biology (LIPI) Cibinong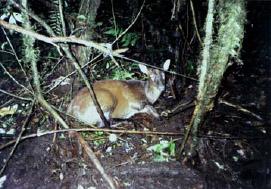 Source: FFI Press Release, pdf