Posted by: Loren Coleman on September 25th, 2008
Gail Hill, whose house in Essex overlooks Norman Creek, spotted a pair of manatees on Tuesday evening and took this picture. Manatees are not commonly seen in the Chesapeake Bay and its estuaries, although there have been more sightings than usual in recent years. For Hill, it was the first time in 34 years that she has seen any of the endangered herbivores. (Photo courtesy of National Aquarium/Gail Hill)
Kristi King of WTOP Radio out of Washington, D. C. reports that two manatees apparently wandered into a Baltimore County tributary of Chesapeake Bay.
The sighting in Essex's Norman Creek hasn't been confirmed officially, but seeing manatees there would not be terribly unusual, according to Jennifer Dittmar, stranding coordinator for the Marine Animal Rescue Program at the National Aquarium in Baltimore.

Dittmar says the endangered species native to Florida does travel.

"We're not sure if the number of manatees heading north is increasing or if just the number of sightings are increasing because people are a little more aware."

The gentle giants eat plants and the woman who spotted them tells Dittmar there are a lot of sea grasses around her dock in Essex's Norman Creek.

Dittmar says Gail Hill did "an excellent job" photographing what likely is two manatees.

If you see a manatee, Dittmar says get a picture. Better yet get Global Positioning System coordinates and the aquarium's Marine Animal Rescue Program will "definitely try to get out to the area" so the sighting can be confirmed officially, Dittmar says.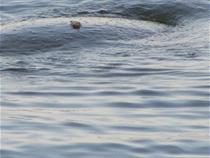 Thanks to Charlie Dougherty for sharing this story.