Posted by: Loren Coleman on February 15th, 2010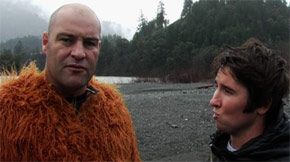 Leigh "That Guy" Hart's Mysterious Planet: The World's Greatest Unsolved Mysteries - a mockumentary – was broadcast last week in New Zealand. Perhaps it was also seen in Australia and some parts (?) of the UK.
Cryptomundo would like to hear from others who have seen this complete program, with your unbiased reviews.  You may send them in via the comments section or via the Cryptomundo contact form. Thank you.
I realize that Mr. Hart will not mind this additional appearance on Cryptomundo, just as we don't mind his noting Cryptomundo's spot-on reporting on his adventures.  :-)

Photo By Michael Neilson/The Daily Jeffersonian/May 4, 2009
Caption published by the Ohio newspaper: Area Bigfoot authority Don Keating is interviewed by Leigh Hart, host of Mysterious Planet, a New Zealand television series dealing with strange phenomenon. The interview was during the 21st annual Bigfoot Conference/Expo Saturday at Salt Fork Resort and Conference Center. Filming is videographer Brent Spillane. (Actually, of course, this is Hart pulling off his elaborate mockumentary filming; read more here: Kiwi adventures.)