Posted by: Loren Coleman on December 30th, 2007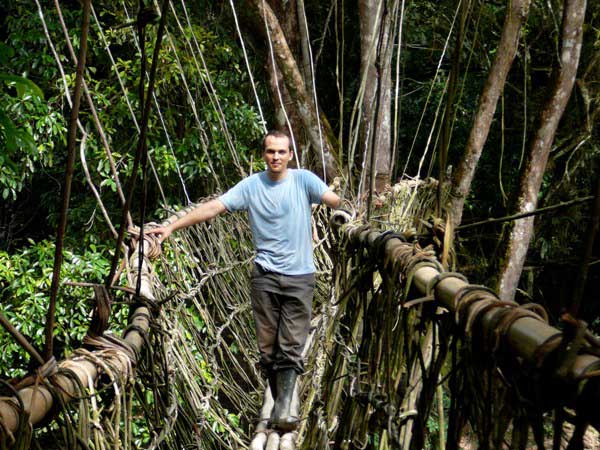 John-Mark Sheppard (above) is the young man who is supplying cryptozoology with new insights about cryptids being reported in Liberia, e.g. the Gbahali and the Kumbway.
In response to reader requests for more about the person collecting the reports, I asked him to share some insights about himself.
Here is John-Mark Sheppard's personal profile:
I am an American, 25 years old, single. I first came out to Liberia with my parents in 1986, and have spent most of my life between Liberia and Cote d'Ivoire. For the most part I have lived in rural areas of West Africa.

I can speak Liberian Pidgin English fluently, French passably, and I've recently been learning to speak the Mandingo language. I work in Liberia with a NGO called Samaritan's Purse and oversee a program called Community Health Education (CHE). CHE is a grassroots program designed to help people take responsibility for their own health and development. We train people to be Community Health Educators who go an educate their family and neighbors about disease prevention and good sanitation. I have about a dozen Liberian staff working under me as trainers. I spend a good amount of my time in the remote areas in which my program operates. Spending time in these areas allows me the chance to explore Liberia's great outdoors. I love hiking the many granite hills, and exploring the rivers here.

I've always been interested in biology to some level. When I was very young, it was dinosaurs, then I developed a fascination with orchids as a teenager, and later became interested in fish. Also growing up here, my siblings and I had the chance to rescue many orphaned animals. Over the course of about 18 years we, at one time or another, cared for over 70 species of animals including turtles, monitor lizards, crocodiles, mongooses, pottos, bush-babies, monkeys, civets, genets, duikers, pangolins, and numerous varieties of rodents. Although I don't have much time for zoo keeping now, I still enjoy interacting with animals. Right now I have a pet potto, which is an African version of a loris.

I attached a picture of me on a "monkey bridge". These are the traditional bridges people in rural areas use to cross rivers. They are made of vines and bamboo. They are very rare these days, so I was fortunate to be able to find over the upper part of the Kahai river.

The thought of documenting a previously undiscovered animal has fascinated me since I was a young boy. Growing up as a missionary kid in Liberia and Cote d'Ivoire, West Africa, I often spent my days exploring the forest around the towns were we lived, fishing, or searching for orchids. Besides loving dinosaurs, I read everything I could find about the Loch Ness Monster. I read stories about possible sauropod dinosaurs in Congo called Mokele-Membe and dreamed of one day leading an expedition to go find them. As I grew older the interest faded, although it never complete disappeared.

Furthering my studies in cryptozoology was certainly not one of my motivations for coming back to Liberia. However, due to some recent conversations I have had with my Liberian staff, my interest in finding undocumented creatures has been reignited. As incredible as this sounds, I firmly believe there are at least two species of "prehistoric" reptiles still living in the most remote areas of Northern Liberia. ~ John-Mark Sheppard