Posted by: Loren Coleman on July 29th, 2008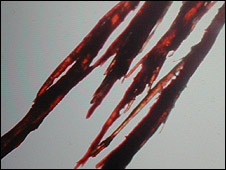 The Yeti hair sample shows split ends.
The first update to the testing of the Yeti hair sample is in, and the results are "inconclusive," not too surprisingly.
Initial results showed it had human and ape-like characteristics. Ian Redmond, a biologist and expert in ape conservation, said the hairs found in the Indian jungle resembled samples collected by the conqueror of Everest, Sir Edmund Hillary, in the 1950s.
"Under the microscope, they look slightly human, slightly like an orang utang and slightly like the hairs brought back by Edmund Hillary," Redmond told AFP.
"These hairs remain an enigma. They could be a new species, but the DNA tests will hopefully tell us more."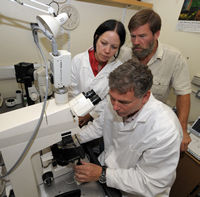 That's right, now Sir Edmund Hillary's name is being pulled into this latest story.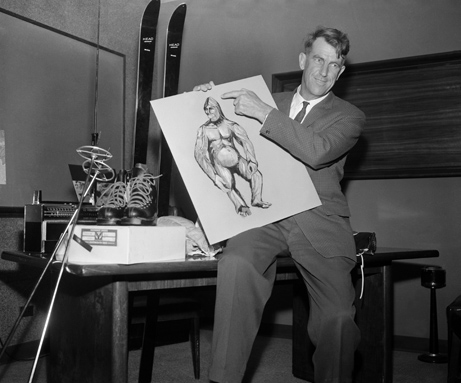 According to the New Zealand Herald of Tuesday, July 29, 2008, British experts say tests on hairs claimed to come from a Yeti in an Indian
jungle show they bear "a startling resemblance" to those brought back from the
Himalayas by Sir Edmund Hillary nearly half a century ago.
Yeti enthusiasts have greeted the news with excitement but appear to be overlooking one problem – scientists concluded the hairs Sir Edmund found probably came from an antelope. [Of course, Hillary knew the hair was from a serow from the beginning of his Euroasian investigative journey, because he was carrying a mockup of the "skullcap" in his luggage. - LC.]
"The hairs are the most positive evidence yet that a yeti might possibly exist, because they are tangible," ape expert Ian Redmond, who is co-ordinating the research, told the Independent in London.
He said they had the same cuticle pattern as hairs Sir Edmund took to England and gave to the Natural History Museum.
The latest two short hairs – 33mm and 44mm long – were picked up in thick forest in the Garo hills in the mountains of northeast India five years ago after a forester reported seeing a Yeti.
The hairs were brought back from India this year by a BBC journalist, Alastair Lawson, who contacted Redmond and was put in touch with a team at Oxford Brookes University in south central England.
Lawson was given the hairs by Yeti believer Dipu Marak, who retrieved them them in dense jungle in the Meghalaya state of India after a forester allegedly spotted the creature on three consecutive days in 2003.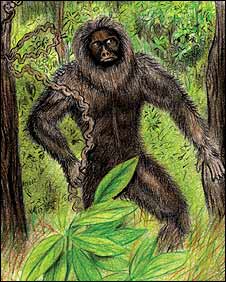 Marak believes the hairs come from an ape-like Indian version of the fabled Yeti, or Abominable Snowman, called Mande Barung (pictured above), which he believes stands about three meters (10 feet) tall.
According to the media report, Sir Edmund led an expedition at much higher altitudes in Nepal in 1960, and investigated reports of Yeti footprints on Ripimu Glacier at the head of the Rolwaling Valley. But hidden microphones and cameras enmeshed in tripwires failed to capture a Nepalese Yeti's likeness – or record its famous high-pitched
whistle – and the Hillary team said "Yeti" footprints they had found were the tracks of a relatively small animal and had melted in the sun. [This is the first time that anyone has ever alluded to Hillary having "hidden cameras" on his expedition! - LC.]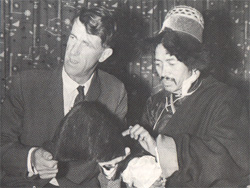 Sir Edmund borrowed a Yeti scalp from Khumjung Gompa, a Sherpa temple, to take to America and Europe to be looked at by scientists who eventually said the scalp had been made from the hide of the serow antelope – probably intended as a ceremonial hat but gradually acquiring the status of an actual scalp. [When the scalp was discussed with the previous Daily Mail and Slick-Johnson expeditions, it was clearly noted as a relic made in imitation of a Yeti skull, not the real thing. - LC.]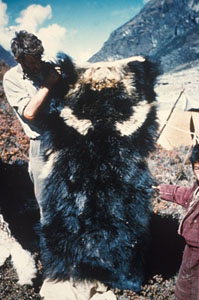 A "Yeti skin" was identified as a blue bear. [Hillary had a member of his party buy it, full well knowing it was a bear skin. - LC]