Posted by: Loren Coleman on May 18th, 2008
Chad Arment has passed along updates on a 2 to 3 ft long crocodilian being sighted and photographed in Hickory Lake, North Carolina. Seen for a week now (since Mother's Day, May 11, 2008), it remains uncaught.
Eyewitnesses thought it was an alligator, but official speculation, at first, said it was a caiman.
N.C. Department of Wildlife Agent Michael Juhan was quoted by the media saying as much.
"It may have been a caiman, which is not unusual for people to have as an exotic pet before releasing it into the wild," Juhan said.

While caimans are not native to this area, they have been captured in North Carolina.

In July 2006, when a creature appearing to be a small alligator was spotted in the French Broad River in Brevard in Transylvania County, biologists at Brevard College said the animal was a caiman.
Here's a photo capture from a news video; as Arment says, "It's a gator."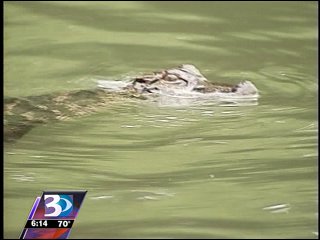 Complete news stories are to be found here and here.
Appreciation to Chad Arment, author of Boss Snakes: Stories and Sightings of Giant Snakes in North America, for these reports and links.