Posted by: Loren Coleman on November 24th, 2007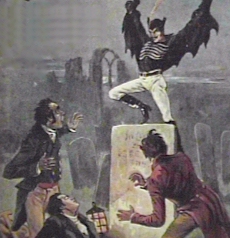 "Why doesn't somebody reprint Peter Haining's book on Springheel Jack?" is a question Fortean author Robert Schneck asked in 2005.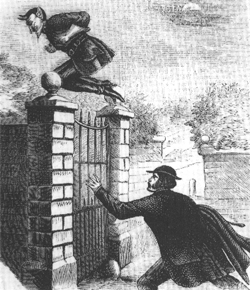 Maybe some publisher will now.
Peter Haining, 67, has died suddenly.
Peter Haining wrote and edited so many Fortean and related books, I would imagine that most people reading this notice own at least one of his works.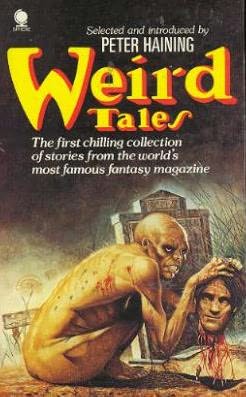 Anthologist Peter Haining, born 1940, died from a heart attack on November 19, 2007, at the age of 67.

He is best known to 007 fans as the author of "James Bond: A Celebration" – one of the first books focussing on the cinematic series.

As well as his 1987 Bond book, he edited numerous [fortean,] fantasy and horror anthologies.

He began his career as a reporter in Essex and then moved to London where he worked on a trade magazine before joining the publishing house of New English Library. Peter achieved the position of Editorial Director before becoming a full time writer in the early Seventies.

He edited a large number of anthologies, predominantly of horror and fantasy short stories, wrote non-fiction books on a variety of topics from the Channel Tunnel to Sweeney Todd and also used the pen names "Ric Alexander" and "Richard Peyton" on a number of crime story anthologies. In the Seventies he wrote three novels, including The Hero (1973), which was optioned for filming.

He wrote several reference books on Doctor Who, including the 21st anniversary special Doctor Who: A Celebration Two Decades Through Time and Space (1983), and also wrote the definitive study of Sherlock Holmes on the screen, The Television Sherlock Holmes (1991) and several other television tie-ins featuring famous literary characters, including Maigret and Poirot.

Peter Haining's most recent project was a series of World War Two stories based on extensive research and personal interviews: The Jail That Went To Sea (2003), The Mystery of Rommel's Gold (2004), Where The Eagle Landed (2004), The Chianti Raiders (2005) and The Banzai Hunters (2007).

He won the British Fantasy Awards Karl Edward Wagner Award in 2001.~Peter Haining obit.

Here is a list of Peter Haining's many books and anthologies:
Novels
The Hero (1973) (with Terry Harknett)
The Savage (1986)
Series contributed to
Doctor Who
Doctor Who : A Celebration; Two Decades Through Time and Space (1983)
The Key to Time : A Year by Year Record (1984)
The Doctor Who File (1986)
The Time-Travellers Guide (1987)
The Nine Lives of Doctor Who (1999)
James Bond
James Bond: A Celebration (1987)
The Mammoth Book of …
The Mammoth Book of Armchair Detectives and Screen Crimes (1998)
The Mammoth Book of Twentieth-Century Ghost Stories (1998)
The Mammoth Book of Haunted House Stories (2000)
The Mammoth Book of Modern Ghost Stories (2007)
Anthologies edited
Everyman's Book of Classic Horror Stories (1965)
The Hell of Mirrors (1965)
Beyond the Curtain of Dark (1966)
The Craft of Terror (1966)
Where Nightmares Are (1966)
Guaranteed Rest in Peace: And Other Macabre Tales (1966)
Gentlewomen of Evil: An Anthology of Rare Supernatural Stories from
the Pens of Victorian Ladies (1967)
Anyone for Murder?: And Other Tales of Crime (1967)
This Day's Evil (1967)
Dr. Caligari's Black Book (1968)
The Evil People (1968)
The Future Makers (1968)
The Midnight Penthouse (1968)
The Midnight People (1968)
Legends for the Dark (1968)
The Witchcraft Reader (1969)
The Satanists (1969)
The Unspeakable People (1969)
The Hollywood Nightmare (1970)
The Freak Show (1970)
A Circle of Witches: An Anthology of Victorian Witchcraft Stories (1971)
The Wild Night Company (1971)
The Necromancers (1971)
The Clans of Darkness: Scottish Stories of Fantasy and Horror (1971)
The Ghouls Book 2 (1971)
The Ghouls Book 1 (1971)
Detours Into The Macabre (1972)
The Dream Machines (1972)
The Magicians: The Occult in Fact and Fiction (1972)
Nightfrights (1972)
Great British Tales of Terror: Gothic Stories of Horror and Romance
1765-1840 (1972)
Lucifer Society (1972)
Great Tales of Terror from Europe and America Volume 2 (1972)
Summoned from the Tomb (1973)
Gothic Tales of Terror (1973)
The Nightmare Reader (1973)
The Nightmare Reader Volume 1 (1973)
The Nightmare Reader Volume 2 (1973)
The Ghouls (1974)
Christopher Lee's New Chamber of Horrors (1974)
More of Christopher Lee's New Chamber of Horrors (1974)
The Magic Valley Travellers: Welsh Stories of Fantasy and Horror (1974)
The Ghost's Companion (1975)
The Fantastic Pulps (1975)
The Penny Dreadful: or Strange Horrid and Sensational Tales (1975)
The Black Magic Omnibus Volume 2 (1976)
The Black Magic Omnibus Volume 1 (1976)
Tales of Unknown Horror (1976)
Weird Tales Volume 2 (1976)
Frankenstein File (1977)
Deadly Nightshade (1978)
More Weird Tales (1978)
Irish Leprechaun's Kingdom (1979)
The Shilling Shockers (1979)
More Tales of Unknown Horror (1979)
The Leprechaun's Kingdom (1979)
Buried Passions (1980)
The Final Adventures of Sherlock Holmes (1981)
Vampire Terror and Other Stories (1981)
Book of Ghost Stories (1983)
Zombie (1985)
The Ghost Ship: Stories of the Phantom 'Flying Dutchman' (1985)
Tales of Dungeons and Dragons (1986)
Dead of Night (1986)
The Television Sherlock Holmes (1986)
The Dracula Centenary Book (1987)
Werewolf: Horror Stories of the Man Beast (1987)
LBW – Laughter Before Wicket: 100 Years of Humorous Cricket Short
Stories (1987)
Poltergeist: Tales of Deadly Ghosts (1987)
Movie Monsters: Great Horror Film Stories (1988)
Scottish Stories of Fantasy and Horror (1988)
Doctor Who : 25 Glorious Years (1988)
Mummy Stories of the Living Corpse (1988)
Irish Tales of Terror: Twenty-Two Bewitching Tales of Irish Mystery
and Magic (1988)
Hook, Line and Laughter: A Haul of 18 Humorous Fishing Stories (1989)
Stories of the Walking Dead (1990)
Murder On the Menu: A Gourmet Guide to Death (1991)
The Armchair Detective: Great Tales of Crime and Detection (1992)
The Television Detectives' Omnibus (1992)
Great Irish Stories of the Supernatural (1992)
Great Tales of Horror (1993)
Vampires at Midnight (1993)
Masters of the Macabre (1993)
TV Late Night Horror Omnibus (1993)
The Armchair Horror Collection (1994)
The Flesh Eaters (1994)
The Frankenstein Omnibus (1994)
On Call with Doctor Finlay (1994)
Great Tales of Crime and Detection (1994)
Peter Cushing's Monster Movies (1994)
Great Irish Tales of the Unimaginable (1994)
Murder by the Glass (1994)
The Television Crimebusters Omnibus (1994)
Armchair Horror Omnibus (1994)
Great Irish Tales of Horror (1995)
Space Movies: Classic Science Fiction Films (1995)
Tales from the Gothic Bluebooks (1995)
The Vampire Omnibus (1995)
Murder at the Races (1995)
Ghost Movies: Famous Supernatural Films (1995)
Tales from the Rogues' Gallery (1996)
London After Midnight (1996)
Space Movies II (1996)
The Wizards of Odd: Comic Tales of Fantasy (1996)
Ghost Movies II (1996)
Murder on the Railways (1996)
The Vampire Hunters' Casebook (1996)
On the Case with Agatha Christie's "Poirot" (1996)
Pulp Frictions (1996)
Great Irish Tales Of Fantasy And Myth (1996)
Cyber-Killers (1997) (writing as Ric Alexander)
The Flying Sorcerers (1997)
Timescapes (1997)
Classic Science Fiction (1998)
Classic Westerns (1998)
Classics of the Supernatural (1998)
Scary!: Stories That Will Make You Scream (1998)
Great Irish Humorous Stories: An Anthology of Laughter and Wit (1998)
The Unexplained: Stories of the Paranormal (1998) (writing as Ric
Alexander)
Knights of Madness: Further Comic Tales of Fantasy (1998)
Great Irish Stories of Murder and Mystery (1999)
Vintage Science Fiction (1999)
Great Irish Tales of Fantasy (1999)
Laws and Disorders (1999)
Great Welsh Fantasy Stories (2001)
Great Irish Drinking Stories (2002)
Scary!: More Stories to Make You Scream!: Vol 2 (2002)
Magician's Circle: More Spellbinding Stories of Wizards and Wizardry
(2003)
The Wizard's Den: Spellbinding Tales of Magic and Magicians (2003)
Scottish Ghost Stories (2004)
The Mysterious Novice: Tales of Terror from the Gothic Bluebooks (2007)
Non fiction series
Invasion Earth
The Invasion: Earth Companion (1998)
Non fiction
A Thousand Afternoons (1970)
Witchcraft and Black Magic (1971)
Anatomy of Witchcraft (1972)
The unexpurgated 'Penthouse' (1972)
Warlock's Book: Secrets of Black Magic from the Ancient Grimoires (1972)
The Channel Islands (1972)
The Marlock's Book (1973)
The Graveyard Wit: The Humour of the Tombstone (1973)
The Monster Makers (1974)
Witchcraft Papers (1974)
Fortune Hunter's Guide (1975)
The Compleat Birdman: An Illustrated History of Man-powered Flight
(1976)
An Illustrated History of Witchcraft (1976)
The Monster Trap and Other True Mysteries (1976)
The Great English Earthquake (1976)
Terror!: History of Horror Illustrations from the Pulp Magazines (1976)
The Ancient Mysteries (1977)
The Edgar Allan Poe Scrapbook (1977) (see Edgar Allan Poe)
Mystery!: An Illustrated History of Crime and Detective Fiction (1977)
The Art of Mystery and Detective Stories: The Best Illustrations from
Over a Century of Crime Fiction (1977)
The Legend and Bizarre Crimes of Spring Heeled Jack (1977)
A Sherlock Holmes Compendium (1978) (see Sir Arthur Conan Doyle)
The Restless Bones: And Other True Mysteries (1978)
The H. G. Wells Scrapbook: Articles, Essays, Letters, Anecdotes,
Illustrations, Photographs, and Memorabilia About the Prophetic
Genius of the Twentieth Century (1978) (see H G Wells)
Movable Books: An Illustrated History (1979)
The Screaming Skull and Other True Mysteries (1979)
Superstitions (1979)
Man Who Was Frankenstein (1979)
Mystery and Horrible Murders of Sweeney Todd, the Demon Barber of
Fleet Street (1979)
Hell Hound and Other True Mysteries (1980)
Legend of Brigitte Bardot (1983)
The Legend of Charlie Chaplin (1983)
Traction Engine Companion (1983)
A Dictionary of Ghost Lore (1984)
Last Gentleman: Tribute to David Niven (1984)
Raquel Welch: Sex Symbol to Superstar (1984)
The Vampire Terror and Other True Mysteries (1984)
Pictorial History of Horror Stories (1985)
Goldie Hawn (1985)
Eyewitness to the Galaxy (1985)
For Mother with Love: Her Special Book (1986)
Race for Mars (1986)
The Art of Horror Stories: Two Hundred Years of Spine-chilling
Illustrations (1986)
Sherlock Holmes Scrapbook (1987)
Ghosts: The Illustrated History (1987)
Elvis in Private: Unofficial Views of the King (1987)
Hole in Fun (1988)
The Scarecrow: Fact and Fable (1988)
Eurotunnel: An Illustrated History of the Channel Tunnel Scheme (1989)
The Spitfire Log: 50th Anniversary Tribute (1989)
Book of Learned Nonsense (1989)
Charlie Chaplin: A Centenary Celebration (1989)
Bob Hope: Thanks for the Memory (1989)
The Day War Broke Out: 3rd September 1939 (1989)
Spitfire Summer: The People's Eye-view of the Battle of Britain (1990)
The Legend of Garbo (1990)
Agatha Christie: Murder in Four Acts (1990) (see Agatha Christie)
The English Highwayman (1991)
Maria Marten (1992)
The Dracula Scrapbook (1992)
The Supernatural Coast: Unexplained Mysteries of East Anglia (1992)
Maigret (1993)
Sweeney Todd: The Real Story of the Demon Barber of Fleet Street (1993)
The Essential Seducer (1994)
On Duty with The Chief (1995)
Medics (1995)
Agatha Christie's Poirot: A Celebration of the Great Detective (1995)
(see Agatha Christie)
The Orion Book of Murder: 100 of the World's Greatest Crime Stories
(1996)
The Un-dead: the Legend of Bram Stoker and Dracula (1997) (with Peter
Tremayne) (see Bram Stoker)
The MG Log (1998)
The Classic Era of the American Pulp Magazine (2000)
A Dictionary of Vampires (2000)
A Dictionary of Ghosts (2001)
The Classic Era of Crime Fiction (2002)
The Flying Bomb War: Contemporary Eyewitness Accounts of the German
V1 and V2 Raids On Britain 1942-1945 (2002)
The Jail That Went to Sea (2003)
The Mystery of Rommel's Gold (2004)
Cat Compendium (2004)
A Slip of the Pen: The Writers' Book of Blunders (2004)
Where the Eagle Landed (2004)
The Chianti Raiders: The Extraordinary Story of the Italian Air Force
in the Battle of Britain (2005)
Lassie: The Extraordinary Story of Eric Knight and 'the World's
Favourite Dog' (2005)
Cannibal Killers: The Real Life Flesh Eaters and Blood Drinkers (2006)
The Banzai Hunters: The Forgotten Armada of Little Ships that
Defeated the Japanese, 1944-5 (2006)
Anthologies containing stories by Peter Haining
The Vampire Hunters' Casebook (1996)
Dancing with the Dark (1997)
The Mammoth Book of Twentieth-Century Ghost Stories (1998)