Posted by: Loren Coleman on June 18th, 2009
Tena koe to you, Cryptomundo's Kiwi reader.
Here is a programming note for Cryptomundo radio listeners in New Zealand.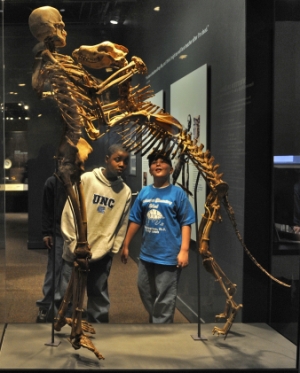 There is something in the wind regarding a forthcoming segment on a show called "Nights," hosted by Bryan Crump, about Dr. Grover Krantz, his bones, and Bigfoot.
I was interviewed during the early morning of June 18, 2009, about Krantz's Sasquatch research, his body being at the Body Farm in Tennessee, and his skeleton mounted as a teaching specimen in the Smithsonian.
Grover S. Krantz, an anthropologist who was never afraid to take the unpopular academic position that the primates called Sasquatch actually exist, died peacefully, on the morning February 14, 2002, in his Port Angeles, Washington home. He donated his body to Science.
My recorded interview will be on a future evening segment of "Nights" on Radio New Zealand National.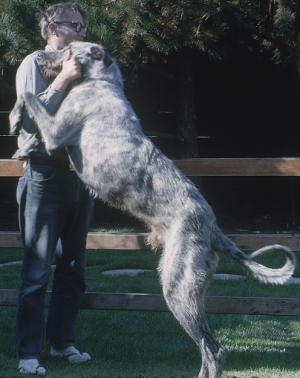 The skeleton model at the Smithsonian Museum of Natural History was based on the above photo of Grover Krantz. "It was an outlandish wish," his wife Diane Horton said. But "he wanted his bones someplace. … He thought he would be a good teaching specimen." (Grover Krantz Papers — National Anthropological Archives.)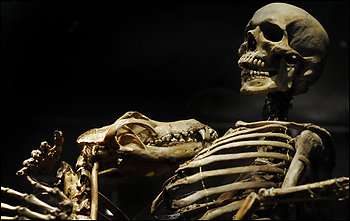 Gordon Krantz and his wolfhound, as the scholar wanted to be preserved. (Washington Post photo by Linda Davidson.)
At top, fifth-graders from Charlotte, N.C., take in the display at "Written in Bone," a forensic anthropology study, at the Smithsonian Museum of Natural History. The skeletons of professor Grover Krantz and his beloved Irish wolfhound, Clyde, are the realization of Krantz's ultimate wish. (Washington Post photo by Linda Davidson.)
Keep research happening…