Posted by: Loren Coleman on January 30th, 2006
Scientific historian Will Bagley recently gave a lecture to Utah Humanities Council at Weber State University, Ogden, Utah, on the the legend of the Bear Lake Monster and other aquatic creatures in Utah. The title of his January talk was "Does the Bear Lake Monster exist?"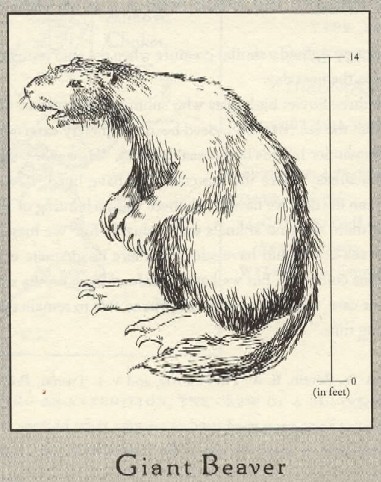 The Giant Beaver, illustration by Harry Trumbore. From The Field Guide to Lake Monsters, Sea Serpents, and Other Mystery Denizens of the Deep (Copyright 2003).
Bagley mostly gave a chronological overview of the accounts, bringing to the fore, once again, the rich interwoven nature of the local history of the area with the reports of these cryptids.
The media proclaimed "monsterologist" dated the reports back to 1868, and then tracked them through the Shoshone, Ute, and local "settler" media reports.
Reporter Julie Lebo noted:
Another question Bagley proposed was what exactly does the Bear Lake Monster look like? Some accounts called the monster a "half-seal, half-serpent, somewhat like a sea lion." Others said "it had a head and a long neck. On either side of it, it had ears that bunched." Whatever the witnesses say, there seems to be no clear description of what this beast looks like.
"From [the several accounts], we have been able to derive that the monster is somewhat serpent-like, between 6 and 90 feet long," Bagley said. "It is said to have a head resembling a horse or a serpent. It is in color, either a green or a brown. It is supposed to have scales but in places it apparently has hair."
Actually, I mildly disagree with Bagley here. My review of the accounts shows a level of consistency in the descriptions that point to a giant mammal. Indeed, I've written extensively on this cryptid, and relate the reports to the possible survival of the Giant Beaver (Castoroides ohioensis), a known species from the Pleistocene.
Also, I see the open-minded nature of the membership of the Church of Jesus Christ of the Latter Day Saints, who were the eyewitnesses of significance for the 1800s, and their great scholarship in recording events of the day, as to the reasons behind why we know so much about these cryptids.
As is often the case with talks on cryptozoology, Bagley's lecture and his method of research was a big hit with the WSU students.
"What I thought basically — I mean the main point is this type of history is a different type of history, like folklore," said WSU art senior Beau Burgess. "So I am interested in seeing how this type of historical research is conducted and the types of sources he used….I like how he brought in the eye-witness accounts and the different stories."
Bagley's presentation is available as an MP3 format created for a WSU Podcast that can be downloaded via a link here.
For those interested in further history and resources on the Bear Lake Monster, see The Field Guide to Lake Monsters, Sea Serpents, and Other Mystery Denizens of the Deep, pages 192-199, where you will find a map of the lakes with sightings in Utah, details of their encounter histories, recent accounts, and sources for further research.