Posted by: Loren Coleman on March 17th, 2011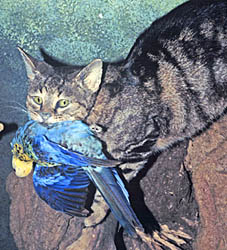 Australian feral cats (above and below).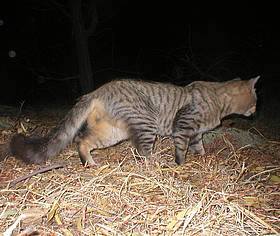 Ivan Sanderson and I use to talk about the reports heard in the 1960s of giant wild cats, domestic felids roaming in rural areas said to be huge. Now out of Australia, comes a contemporary account of such large felines.

Damage done by feral cats to Australian wildlife, including the brush-tail rabbit-rat. Photo: M. Evans.
A gang of feral cats "the size of dogs" has been terrorizing a neighborhood in the Australian city of Brisbane for more than a year, the City South News reported Thursday.

Residents in the suburb of Moorooka say they have been scratched, bitten, hissed at and intimidated several times by the feral felines.

Marlene Jans was taking her five-month-old fox terrier for a walk last Monday when two of the huge cats attacked.

"I was crossing the road, it was dark and I couldn't see them," Jans said. "Then, bam! One came at my dog, one came at me. One was biting my leg. I went for my dog because she was screaming.

"I had to kick them away. I was really scared and I was dripping blood."

Her wound later became infected and she is now terrified to venture out at night.Source