Posted by: Loren Coleman on May 6th, 2009
"The bottom line is, they don't have a body," said Michael Dennett in 2003, in an oft-quoted comment.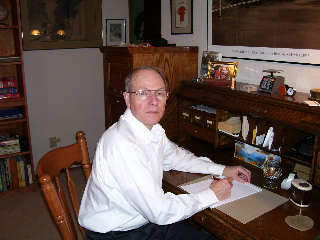 Photo credit: Michael Dennett, at his home in 2008. (Thanks to Daniel Perez.)
Well-known skeptic and debunker Michael R. Dennett died on Saturday, May 2, 2009. He was only 59 years old.
Bigfoottimes Editor Daniel Perez emailed me the news the evening of May 5th, and published the following on his website:
"I just received a phone call from Ben Radford that Michael Dennett has died. I phoned his home and his sister-in-law answered, confirming the news. He was born June 20, 1949 and married. His wife is Lois. He had no children. Services are Friday, May 8th at the Normandy Christian Church, Des Moines, Washington state, not far from his home in Federal Way. He lost his battle to leukemia."
Michael Dennett was a 1971 graduate of Norwich University, a former Army Captain, a paratrooper and a Ranger. Since 1993, Dennett was the sales manager at Whitney Equipment Company in Washington State, which supplies speciality equipment to government outlets.
Within the other world he inhabited, that of paranormal skepticism, Michael Dennett had been an amateur investigative writer for over twenty-five years. His first feature length article was published in the Skeptical Inquirer in 1981. He early on was involved with the Committee for the Scientific Investigation of Claims of the Paranormal, and later, with their name change, became a Committee for Skeptical Inquiry Scientific and Technical Consultant.
In the beginning, Dennett was a debunker of various unexplained matters. One of his first articles published in the Fall of 1985, in Skeptical Inquirer, 10, 36-40, was entitled "Firewalking: Reality or Illusion."
In the Joe Nickell-edited book, Psychic Sleuths (NY: Prometheus Books, 1994), Dennett contributed two chapters, "America's Most Famous Psychic Sleuth: Dorothy Allison," and "A Reticent Psychic Sleuth: Rosemarie Kerr."
Dennett's articles, from the Bermuda Triangle to UFOs, landed him thirteen early television interviews, including NBC's "Good Morning America" program.
After moving to the Pacific Northwest in 1982, Dennett began to debunk Bigfoot. Dennett described himself has having "followed the legend of Bigfoot for more than a quarter of a century" from his home in the Pacific Northwest.
He researched and wrote the cover story for the Spring 1989 issue of the Skeptical Inquirer, about claims made in Newsweek Magazine of evidence for Bigfoot. He also wrote some items for OMNI Magazine.
He had built a reputation in recent years of being a harsh critic of some researchers within the Bigfoot field, and perhaps was hardest on the Paul Freeman evidence supported by Jeff Meldrum. Craig Woolheater at Cryptomundo, for example, overviewed what Dennett had to say about Meldrum's book, here.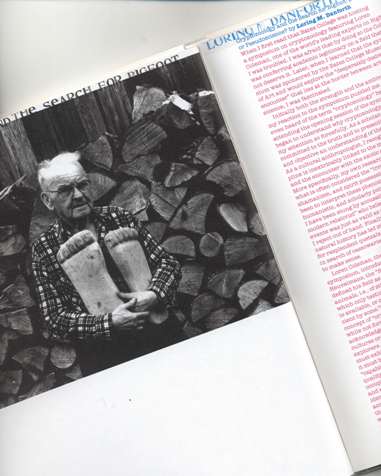 Photograph of Rant Mullens in 1982, with an early pair of his wooden carved fake Bigfoot feet, image credited to Michael Dennett.
Dennett grew to mostly be known for his Bigfoot-related articles, such as "Abominable Snowman Photo Comes to Rocky End," in Skeptical Inquirer 13, or "Evidence of Bigfoot? An Investigation of the Mill Creek 'Sasquatch Prints'," which was republished in The Outer Edge: Classic Investigations of the Paranormal (1996), edited by Joe Nickell, Barry Karr, and Tom Genoni.
Two of Dennett's writings from which he is sometimes quoted are "Bigfoot Evidence: Are These Tracks Real?", Skeptical Inquirer, Fall 1994, p. 498-508, and "Bigfoot," by Michael R. Dennett, in Encyclopedia of the Paranormal, edited by Gordon Stein, (NY: Prometheus, 1996), pp.117–125.
He infrequently branched out to discuss what he called "crypto-animals" or "crypto-zoological (sic) creatures," including his skepticism about ivory-billed woodpecker sightings, based on his Sasquatch debunking insights. He seemed to be speculating that the woodpecker was some sort of a feathered Bigfoot, and often with an ironic tone. "How could so many people, in states like Florida, Georgia and South Carolina, where bird enthusiasts saw the bird, be so wrong? Just as Bigfoot is regularly reported in such far flung places as Ohio, Texas and New York, the ivory-billed seems to have extended its range," he wrote.
A few of Dennett's articles are to be found online, for instance, "Experiments Cast Doubt on Bigfoot 'Evidence'" from the Skeptical Briefs newsletter of September 2006, and "Science and Footprints," Skeptical Inquirer, November/December 2008.
Memorial services will be held on Friday, May 8, 2009, 3:00 PM Pacific Time, at the Normandy Christian Church, 908 200th Street, Des Moines, Washington State.
{Originally published at Cryptomundo on May 5, 2009, at 11:32 pm; revised/updated on May 6, 2009, at 8:00 am.}