Posted by: Loren Coleman on November 19th, 2006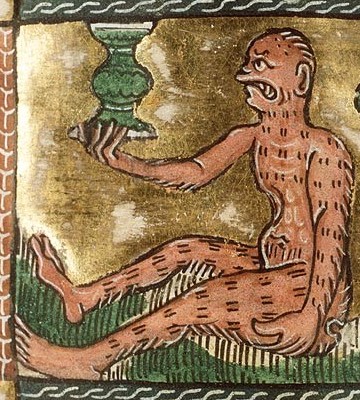 What is it? Click on image for a larger version.
I note that the National Library of the Netherlands has identified this image as being a "monkey." But I note this primate is not showing any tail. Look at the feet? Those are definitely not the feet of a monkey or even an ape.
In terms of scale, this animal is shown with panels of various known, correctly drawn species that include a horse, a goat, a sheep, a wild boar, a hunting dog, a deer, and others. When those animals are compared to this one, they do not all fill their frames and some appear smaller. This creature appears to be a full-sized wildman, not a monkey nor an ape.
The following are the specifics on the what and the where of this item today:
Full reference manuscripts: The Hague, KB, KA 16 Contents: Jacob van Maerlant, Der Naturen Bloeme Place of origin, date: Flanders; c. 1350 Material: Vellum, ff. 164, 278X208 (215×160) mm, 2 columns, 38-40 lines, littera textualis. Dutch. Binding: 16th-century brown leather, gilt Provenance: Since 1937 on permanent loan from the Koninklijke Nederlandse Akademie van Wetenschappen (Royal Dutch Academy of Sciences), Amsterdam, Amsterdam, Koninklijke Nederlandse Akademie van Wetenschappen- National Library of the Netherlands
What do you think?
=====Update
=====
Please find below comparative art of a boar, dogs, deer (stag), and horse. Note the stylized head tilt, mouth, but the realistic overall illustration of the animal (with special attention to how the feet are shown).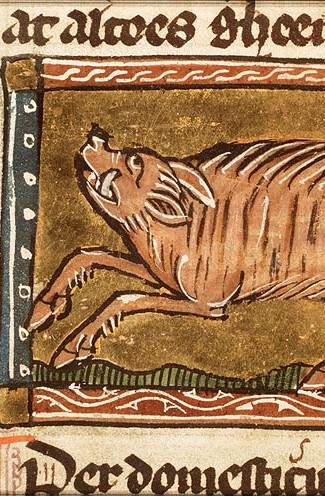 Click on image for full size version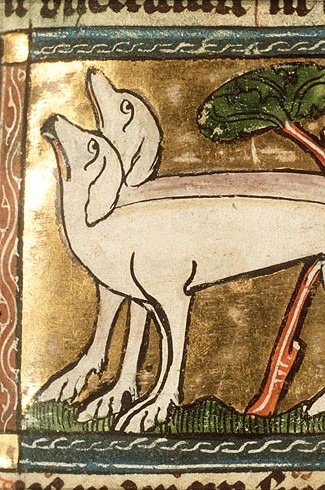 Click on image for full size version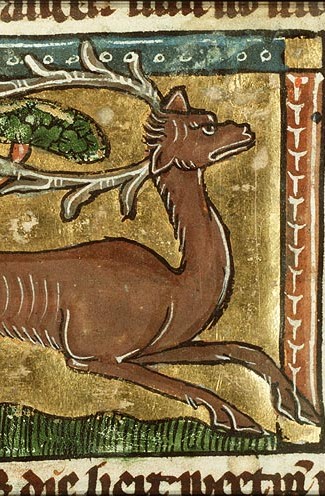 Click on image for full size version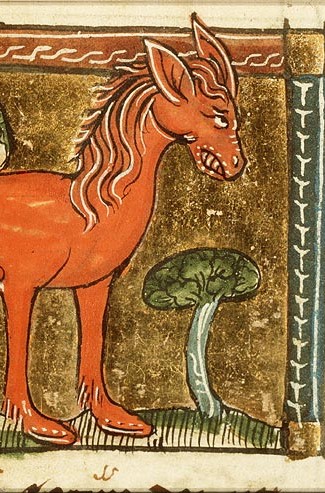 Click on image for full size version