Posted by: Loren Coleman on March 31st, 2007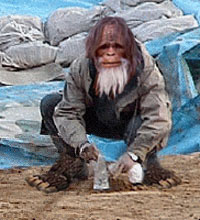 Is this cell phone picture proof that celebrated ape-man scholar Bigfoot has tampered with the archaeological record?
Find or Fake? Scandal has enveloped Bigfoot's most spectacular finds, including this unique pot, found by Bigfoot during his massive pedestrian survey of New Mexico's Chaco Canyon.
Bigfoot Shocker!!
April Fool's Day 2007

Giant ape-man academic exposed!!

American archaeologists were stunned as news broke today that a high-school student with a cameraphone caught Bigfoot in the act of planting artifacts at Burns Mound. An important Mississippian period (A.D. 900-1100) site outside of Memphis, Tennessee, Burns Mound's discovery during a joint Bigfoot-University of North Memphis expedition was one of ARCHAEOLOGY's Top 10 finds of 2003.

"We're taking this very seriously," says Bigfoot's co-principal investigator, University of North Memphis archaeologist Louis Patlin. "While there is no definitive proof that Bigfoot has 'salted' the site with faked ceramic artifacts, I can confirm the university has opened an investigation. "

A year ago Cassandra Sotting, a former University of Michigan graduate student and site supervisor at Bigfoot's excavations at Grover Mound in Illinois, created a blog to publicize her doubts about the spectacular finds at sites where Bigfoot has worked. "I was drummed out of archaeology for telling the truth about Bigfoot," says Sotting, who is currently unemployed. "Now the whole world knows I was right. They can't say I'm crazy any more."

In recent years much has been made of the link between Ohio's ancient Hopewell culture (300 B.C.-A.D. 500) and its later Mississippian counterpart. A wealth of new ceramic artifacts demonstrating the link have been discovered, virtually all of them at sites where Bigfoot was either supervising excavation or visiting for long periods of time as a guest scholar.

The scandal's fallout may not be limited to the Mississippian/Hopewell Interaction Sphere. Bigfoot's celebrated analysis of the ancient Anasazi culture in the American Southwest rests on his discovery six years ago of the previously unknown Mauve-on-Black-on-White pottery in New Mexico's San Juan Basin. News that Bigfoot has been accused of planting artifacts at the Burns site sent Southwestern archaeologists scrambling to re-evaluate the numerous site reports filed by Bigfoot, some of which had resulted in the wholesale revision of the late prehistoric chronology in northwestern New Mexico.

"Bigfoot had a long history of solid, unspectacular research," says Bill Skies, a University of Colorado at Snowmass archaeologist. "It's really only in the past few years that he's made a name for himself with these remarkable discoveries." Skies predicts internal investigations of Bigfoot's papers in the prestigious journals Science and Nature, as well as in Bigfoot Quarterly. The MacArthur Foundation can also be expected to conduct a review of Bigfoot's $500,000 "genius" grant, awarded last year.

"It's really a shame," says Skies. "Bigfoot isn't always the easiest colleague to get along with, but everyone I know thinks the world of the big guy."

Attempts to reach Bigfoot by telephone today were unsuccessful. But an instant message from an account registered in Bigfoot's name to Archaeology read "[Bigfoot] very much looks forward to this matter being resolved, and to continueing [sic] to contribute to the important study of Precolumbian agricultural societies in North America."
Eric A. Powell, Senior Editor, Archaeology
There is something about this article that has sparked me to reveal tomorrow a startling conclusion that I have come to about a longterm investigation I have conducted. – Loren