Posted by: John Kirk on November 6th, 2006
As a Scot living in self-imposed exile in Canada, the memories of Scotland are always in the periphery of my thoughts. I have wonderful memories of the Highlands and the wondrous landscapes I have laid my eyes upon.
I am particularly fond of the great Great Glen and its spectacular beauty and am always concerned about the tourism that occurs around Loch Ness and how it might adversely affect this magnificent body of water.
I recently came across this article from the Highland News that pleases me to no end that Scotland's most famous possible cryptid haunt is benefiting from new water purity measures:
Monster spotter applauds £2m Ness clean-up
By Claire Doughty
Published: 02 November, 2006
NESSIE will have clearer water to swim in after millions of pounds was invested in cleaning up her 'home'.
And, it is hoped, the improvements to the Loch Ness Monster's surroundings will lead to more sightings.
Scottish Water have just completed two projects worth over £2 million in the world famous stretch of water.
Modern waste water treatment works have been installed at Foyers on the south shore of the loch, and at Balnain, near Drumnadrochit, on the north shore.
Both works discharge a cleaner effluent into the rivers Foyers and Enrick, which flow into Nessie's abode.
Gary Campbell, president of The Official Loch Ness Monster Fan Club, welcomed the news.
He said: 'It is great to see this improvement in the quality of Nessie's habitat. There have only been a few sightings this year and I'm sure that cleaner water will mean Nessie is seen more often.
'Seriously, this is good news for the many Nessie hunters who visit the area. A cleaner environment will encourage them to return.'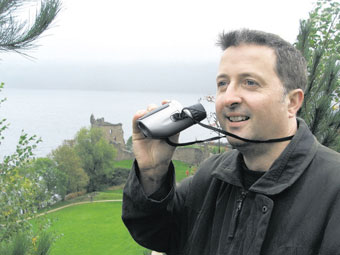 Nessie fan club president Gary Campbell is hopeful the cleaner water will make for more sightings.
Sheila Campbell-Lloyd, Scottish Water's regional manager in the Highlands, added: 'This is a brilliant example of Scottish Water investing to ensure that the Highlands remains a great place to live and visit. A cleaner environment makes for a better experience and that in turn should benefit the important tourist trade in the area.'
The £1.8 million treatment works located in Lower Foyers, near the lochside, has two septic tanks and filters which provide secondary treatment, which separates solid and liquid waste and is filtered down to produce a high quality effluent.
It replaces a number of outdated septic tanks around Lower and Upper Foyers. By reducing the number of discharges to just one, the environment is now much more pleasant and the river and the loch are now much cleaner. At Balnain, the £300,000 project involves a new septic tank and reed bed system which protects the environment and boosts the water quality in the River Enrick.
Scottish Water says reed beds use natural methods to break down sewage and recycle it into clean water. They don't use any chemicals and reduce the risk of flooding, minimise odours, blend in well with the environment and provide habitats for wildlife.
The most recent Nessie sighting was last month when a young English couple holidaying in the Highlands claimed they encountered Nessie twice during their stay. Nick Thurston and his fiance Emma Louise Jones won a holiday to the Highland capital and spotted the monster whilst on a cruise. Their second sighting was a week later whilst driving near to Urquhart Castle.
Some years ago a major effort was made to clean up Okanagan Lake which was being polluted by Eurasian Millfoil and human waste. When new sewage facilities were put in and the millfoil dealt with, sightings of Ogopogo did seem to increase. I wonder if this will happen at Loch Ness too.
We'll keep an eye peeled for any interesting developments and report them here.