Posted by: John Kirk on August 24th, 2006
The Thetis Lake Gillman is not the only aquatic anomaly that the RCMP found themselves dealing with in the course of their duties. The force has crossed paths with a number of aquatic cryptids known commonly as "lake monsters," the most famous of which is the world-famous Ogopogo of Okanagan Lake, British Columbia.
I am the only member of the RCMP family that has come forward with a sighting of the creature, but I was not part of the force when I had my sightings in the 1980's and 90's so I guess in a way no RCMP member has ever seen the beast. This is unusual as for many years the RCMP operated a launch on the lake and I remember the last time I saw this vessel in 1989 when the members aboard were assisting a windsurfer who had gotten into difficulties.
Today the RCMP uses inflatable boats to carry out its patrols on the lake. Despite this long time presence on the lake I have not come across a single report of any police officer seeing the creature in a century of policing on the lake. However, that being said, the RCMP has received many reports from citizens who have encountered the animal. These have been duly noted, but there is nothing the force can really do to investigate except if Ogopogo commits an offence!
The force has been called upon to deal with people who have an agenda in regard to people who could endanger the public or the creature by hunting Ogopogo. In August 1989, the RCMP were asked to be extra vigilant for people who might want to shoot or dynamite the creature following the revelation of the site where car salesman, Ken Chaplin, had what he thought was a sighting of Ogopogo. The RCMP increased their presence in the Bear Creek area as there was a perceived threat to persons, property and unknown aquatic creatures. Chaplin captured what he though was Ogopogo on videotape, but I like wildlife officers, zoologists, biologists and oceanographers are of the opinion he filmed a beaver – they do live in the lake – rather than Ogopogo.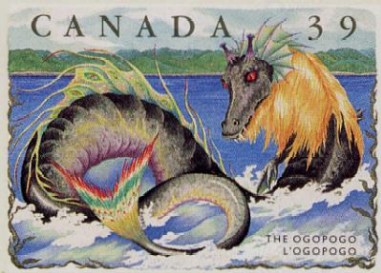 This stamp was issued in 1990 by the Canadian government as one of a set of four stamps to commemorate legendary Canadian animals.