Posted by: Nick Redfern on September 1st, 2012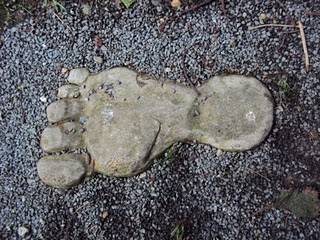 Strange Bigfoot-like prints have been found in the UK. Yep, the UK.
Real, hoax, something else? Well, what I can say is that I have a new book coming out next year from Jon Downes' Center for Fortean Zoology titled Wildman!, which is a study of the Bigfoot/wildman-of-the-woods controversy in the UK. In fact, in terms of word-count, it's probably the longest book I have ever written; the reason being that there are far more reports of UK-based Bigfoot-type beasts than many even realize.
But, I can assure you this latest affair is not a part of some weird viral campaign to promote the book! I may have to get Jon to hold the presses, though, and make this new story a late addition to the book's pages…
Whether it will appear in a stand-alone chapter, or in the one on hoaxes, remains to be seen. Right now, I'm betting the latter…