Posted by: Nick Redfern on October 12th, 2012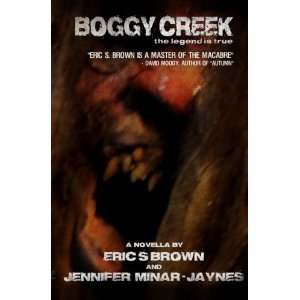 There's a new book out right now on the beast of Boggy Creek. Titled Boggy Creek: The Legend is True, this one is a novel. It's written by Eric S. Brown and Jennifer Minar-Jaynes.
So, if crypto-fiction is your thing, then this is one you'll likely want to get!
Here's the publisher's blurb on the book:
"EVIL LURKS IN THE SWAMP. When Jennifer's father dies in a horrific accident, she finds herself drawn to his small cabin in the swampy woods of Boggy Creek, Texas. Her vacation with a few friends soon becomes a fight for survival when they discover the terrifying truth behind the legend of Boggy Creek."