Posted by: Craig Woolheater on January 19th, 2006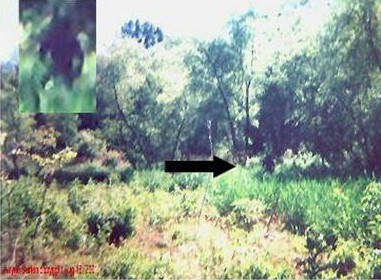 Click above image to see larger version.
Is this a photo of a Bigfoot? Or a bear standing on its hind legs? Or nothing but shadows and leaves?
Tom Biscardi says it is an actual photo of a Bigfoot and that it was taken by Wayne Burton in Ohio. Tom will be a guest on the 'X' Zone Radio Show tonight from 11 PM to 12 AM EST. Call in tonight to talk to him about this photo and the others that he touts as the real thing.
Mr. Biscardi is apparently still on his expedition throughout the US and Canada. I don't imagine that he will be going back to UnHappy Camp…errr, Happy camp, California anytime soon.
Of course, Tom also thinks that the photos below are legitimate as well.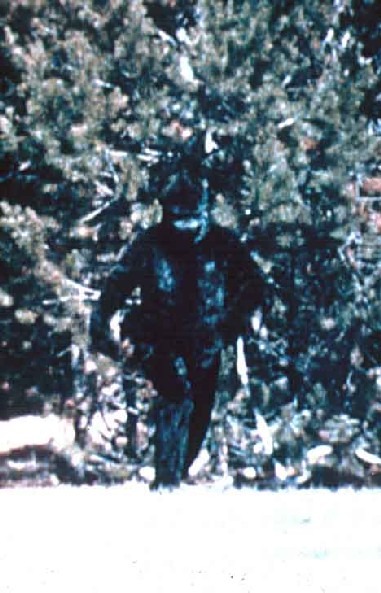 This photo is a still taken from film footage shot by Ivan Marx of a "Bigfoot" that was agressively charging him in the 1970′s. He claimed to have shot the "Bigfoot".
And this is a photo of a "adult male Bigfoot" that was taking a lunch break. Almost looks like he's wearing camo, huh? And I won't even start on that funky lookin' head…